خانه پله‌ای
دفتر معماری کالکتیو ترین (رامین مهدی‌زاده)
فینالیست نخستین دوره جایزه شایستگی معمار ایرانی (۱۳۹۷)
موقعیت: تهران، ایران
تاریخ: ۱۳۸۲
مساحت: ۳۰۰ مترمربع
وضعیت: ساخته‌شده
کارفرما: احسان مهدی‌زاده
سازه: رضا مهدی‌زاده
اجرا: رامین مهدی‌زاده، احسان مهدی‌زاده
گرافیک: رامین مهدی‌زاده
عکس: رامین مهدی‌زاده
جوایز: رتبه اول جایزه معمار ۱۳۸۳
خانه پله‌ای در زمینی به مساحت ۱۱۹ مترمربع، با عرض تقریبی ۳.۹۰ متر و با سطح اشغال ۸۰ مترمربع، در ۱۵ تراز مختلف ساخته شده که نتیجه حاصله، ۲ واحد آپارتمان ۱۳۰ متری و یک سوئیت ۳۵ متری است.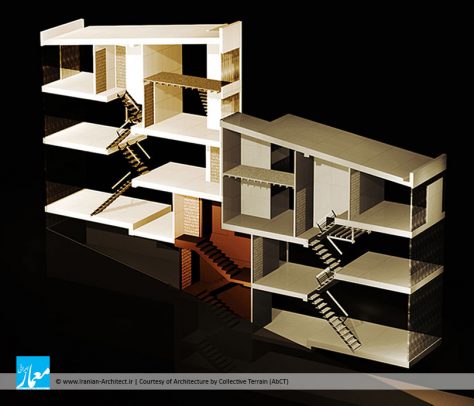 ورود به طراحی در زمین‌های کوچک و باریک کاملا متفاوت است. در این طرح، دسترسی‌های افقی جای خود را به دسترسی‌های عمودی داده‌اند و دیگر خبری از راهرو نیست؛ به جای راهرو در جای جای ساختمان، فضای خالی و پله دیده می‌شودو فضاهای خالی و پله‌ها نقش مهمی، هم از لحاظ زیبایی‌شناسی و هم از لحاظ عملکردی، ایفا می‌کنند.
باریکی ساختمان و کم بودن سطح نورگیری و همچنین کشانیدن مناظر خارج ساختمان به فضاهای کوچک داخلی، دلیل انتخاب نمای ترانسپارانت بوده است. با توجه به باریکی زمین و شیب آن، دو واحد تریپلکس در طول هم قرار گرفته‌اند که فضای مابین آنها نورگیر و پله‌های دسترسی به واحدهاست.
Stair House
Architecture by Collective Terrain (Ramin Mehdizadeh)
Finalist of Iranian Architect Merit Award 2018
Location: Tehran, Iran
Date: 2003
Area: 300 sqm
Status: Completed
Client: Ehsan Mehdizadeh
Structure: Reza Mehdizadeh
Construction: Ramin Mehdizadeh, Ehsan Mehdizadeh
Graphic: Ramin Mehdizadeh
Photo: Ramin Mehdizadeh
Awards: 1st Place of Memar Award 1383
The whole concept was envisioned in a 3-dimensional manner so as to transform a seemingly worthless site to a worthy livable place. This project consists of two units and a studio. Each unit consists of 5 levels interconnected by private staircases and voids. Thus, the sense of confined rooms resulting from the narrow site gives way to airy good-proportioned spaces which look larger than their surface area suggests. Based on different locations of the viewer, there are numerous perspectives to discover and explore the interaction of the levels, the stairs and the voids are meant to create active varied spaces.
The site located in a dense urban context and surrounded by other 3&5-story buildings. The buildings in the context have no obvious style of architecture. Some have bricks in the facade and the others have stone or cement. By the way, they don't have original style even the local ones. The narrowness of the site (about 3.90 m) dictates light transparent facades. Despite the complication inside the house, the outside views are simple. Because of the site's slope, there is a one and a half story different between the two units which provides ample sunlight for the northern block.
A sense of coziness and comfort is created with the careful use of a range of materials. The natural wood, bricks, travertine and some other local materials are being used to create this coziness. These Materials are low price in this region.
The cold mountainous climate of the site called for a sloping roof. In the winter, sunlight provides natural heat which helps to use less fossil fuel. The air circulation in the winter occurs naturally through the voids. In the summer, the fresh air comes in from the lower windows and the hot stuffy air goes out through the upper windows.