ویلای ناربن
آراد حمیدزاده
راه‌یافته به مرحله نیمه‌نهایی پنجمین دوره جایزه شایستگی معمار ایرانی (۱۴۰۱)
موقعیت: نوشهر، ایران
تاریخ: ۱۳۹۸
مساحت: ۲۷۰ مترمربع
وضعیت: ساخته‌شده
کارفرما: سعید درویش، حسام درویش
همکاران طراحی: حسام درویش، حسین مددی، آرمان حمیدزاده
سازه: افشین قائمی
اجرا: حسام درویش، حسین مددی
عکس: علی سجادی
خلق دو فضای مکعبی‌شکل مجزا به صورت خصوصی و عمومی، در راستای عرضی سایت، و چرخش یکی از آنها حول یک محور عمودی، تمام چیزی بود که به نیازهای پروژه و نیز خلق ساختاری نو پاسخ می‌داد و در عین حال، علاوه بر ایجاد دیاگرامی گویا و قابل درک، فضاهایی مانند تراس‌ها در پروژه شکل می‌گرفت. کنسول ۱۰ متری حاصل از این دوران، تداعی‌گر حس پرواز و تسلط بر محیط اطراف است و در عین حال، سادگی احجام به‌کاررفته، حس تواضع در مقابل طبیعت پیچیده اطراف را تقویت می‌کند.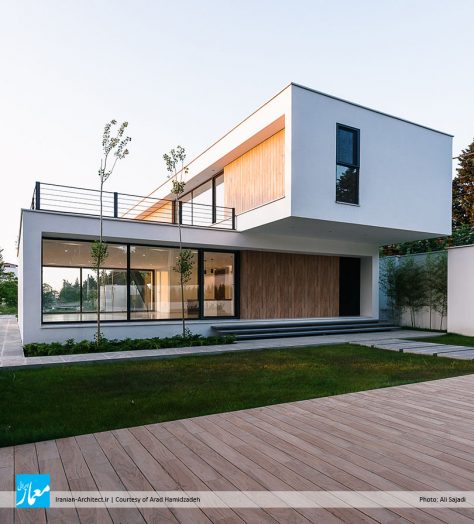 در ادامه طراحی، با سبک‌تر کردن احجام صلب و به وجود آوردن فضاهای پر و خالی در میان حجم، و تبدیل آن به یک فضای برون‌گرا در طبقه همکف، برای ارتباط هرچه بیشتر با محیط اطراف، و یک فضای درون‌گرا در طبقه اول، برای حفظ حریم خصوصی ساکنین، هویتی دوگانه به پروژه دادیم.
تضاد میان پر و خالی، نحوه اتصال فضای تهی داخل با مرز ساختمان و بیرون، حفظ هندسه کلی، و ایجاد تنوع فضایی دوگانه در فضاهای بسته و نیمه‌باز، از دیگر موارد مورد نظر در پروژه بوده است.
Narbon Villa
Arad Hamidzadeh
Semi-Finalist of Iranian Architect Merit Award 2022
Location: Nowshahr, Iran
Date: 2019
Area: 270 sqm
Status: Completed
Client: Saeed Darvish, Hesam Darvish
Design Team: Hesam Dravish, Hossein Madadi, Arman Hamidzadeh
Structure: Afshin Ghaemi
Construction: Hesam Dravish, Hossein Madadi
Photo: Ali Sajadi
In the first step, creation of two cubic boxes separately, and rotating them around a vertical axis, answered to the all problems that we had in the project, and created a new structure which caused simple and clear diagram, and created some areas for instance terraces.
10 meter console reminds the feeling of flying, although simplicity of volumes helps to increase the feeling of humility, in comparison to complex nature that is around the project.
In the next step, the rigid volumes lightened and caused an extroverted space in the first level, and an introverted space in the second level, and created dual identity for this project.