ساختمان زینال
شرکت مثبت بی‌نهایت (آرمین عبدالله‌زاده، شیوا مردانی)
موقعیت: ماکو، آذربایجان غربی، ایران
تاریخ: ۱۳۹۸
مساحت: ۲۰۰۰ مترمربع
وضعیت: ساخته‌شده
کارفرما: بهروز زینال‌زاده
همکار طراحی: حسن قنبرزادگان
سازه: آرمین عبدالله‌زاده
تاسیسات: حامد جلیل‌زاده
عکس: محمدحسن اتفاق
ساختمان زینال در شهر ماکو واقع است، شهری در شمال‌غربی‌ترین نقطه جغرافیایی ایران، در همسایگی سه کشور ترکیه، آذربایجان و ارمنستان. موقعیت پروژه به‌گونه‌ای است که مشرف به ارتفاعات بسیار زیبای کوه چرکین بوده و مناظر زیبای کوه همیشه برف‌گیر آرارات نیز در دوردست قابل مشاهده است.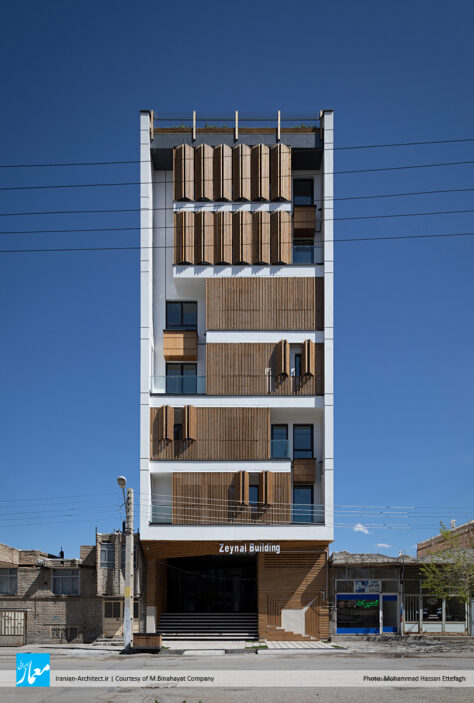 از همان ابتدا، طی جلسات متعدد توانستیم نظر کارفرما را درباره به‌کارگیری سبک مدرن در پروژه جلب کنیم. چالش اصلی ما بعد از جلب اعتماد کارفرما، موقعیت غربی و شرقی پروژه و وجود نور غرب در ساعات انتهایی روز بود که برای حل این موضوع، از نمای دوپوسته‌ با قابلیت باز و بسته شدن اتوماتیک (در طبقات پنجم و ششم) و دستی (در سایر طبقات) استفاده کردیم.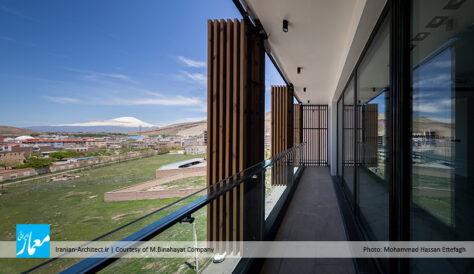 برای دست‌یابی به رنگ سفید موجود در طرح نما، از نمای سیمانی دارای پوشش نانو، در تلفیق با چوب استفاده شد. همچنین به منظور ایجاد دهانه‌های بلند و حذف ستون‌های میانی، سیستم سازه‌ای دال دوطرفه مجوف مورد استفاده قرار گرفت.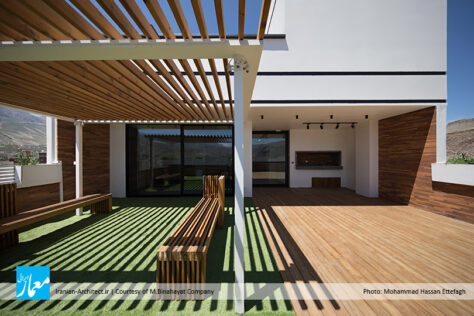 توزیع کاربری‌ها در طبقات ساختمان بدین‌ترتیب است: پارکینگ در زیرزمین، کاربری اداری در طبقات همکف و اول که محل جدید دفتر شرکت ماست، کاربری مسکونی به‌صورت دو واحدی در طبقات دوم تا چهارم و به‌صورت تک‌واحدی در طبقه پنجم، و کاربری اقامتی و تفریحی در طبقه ششم که دارای حیاط سبز مشرف به ارتفاعات کوه چرکین و کوه آرارات است.
Zeynal Building
M.Binahayat Company (Armin Abdollahzadeh, Shiva Mardani)
Location: Maku, West Azerbaijan, Iran
Date: 2020
Area: 2000 sqm
Status: Completed
Client: Behrouz Zeynalzadeh
Design Assistant: Hasan Ghanbarzadegan
Structure Consultant: Armin Abdollahzadeh
MEP Consultant: Hamed Jalilzadeh
Photo: Mohammad Hassan Ettefagh
The project is located in Maku City, a city in the northwest of Iran, neighboring the three countries of Turkey, Azerbaijan and Armenia. The project's location is such that it overlooks the stunning heights of Cherkin Mountains, and at distance, the beautiful scenery of always snowing Mount Ararat is visible.
From the very beginning, we have been able to draw on the client's opinion on the use of the modern style in the project, through numerous meetings. Our main challenge, after gaining client's trust, was the western and eastern position of the project and the presence of western light at the end of the day, that to solve this problem, a two-shell facade with automatic opening and closing capability (in the fifth and sixth floors) and manually (in the other floors) were used.
To achieve the white color in the design, a cementitious facade with nano-coating was used in combination with wood. Sophisticated ten-sided slab system was used to achieve the possibility of creating long openings and removing the middle columns.
The distribution of functions on the floors of the building is as follows: parking in the basement; office on the ground and first floors, which is the new location of our company office; residential as two units on the second to fourth floors, and as a unit on the fifth floor; and recreational on the sixth floor, which has a green courtyard overlooking the heights of Mount Cherkin and Mount Ararat.