فودهال دیدار
مهندسان مشاور طرح و توسعه دلتا (احمدرضا حیدری)
موقعیت: سی‌سنگان، نوشهر، مازندران، ایران
تاریخ: ۱۴۰۱
مساحت: ۵،۴۰۰ مترمربع
وضعیت: ساخته‌شده
کارفرما: محمدرضا ملتجی
تیم طراحی: توحید هاشمی شهرکی، محمدحسین کوشش، فرشته مکارمی
طراحی فنی (فاز دو): روبرت کشیشیان، موسی سلطانیان، نغمه نوح‌جاه، ریحانه کریمیان، آناهیتا رئیسی، نگین سهرابی
سازه: سمیر اوستاخ، حامد موحد
تاسیسات مکانیکی: حسین کامروا
تاسیسات الکتریکی: پدرام وکیلی
اجرا: مهندسان مشاور طرح و توسعه دلتا (محمدرضا حیدری)
همکاران اجرا: سیدناصرالدین رضوانی، میثم افشار، ارسطو کیهانی
طراحی نورپردازی: شرکت پرتوفام
گرافیک: فرشته مکارمی، دانیال جلیلیان، یوسف سالمی
عکس: احسان تحویلیان
هنگام عبور از بیشتر جاده‌های ساحلی شمال می‌بینیم که ساخت‌وسازهای حاشیه‌ دریا باعث شده‌اند دید و چشم‌انداز به دریا محدود، مخدوش و بعضا بسته شود. از این‌رو، تردید در درستی یا نادرستی ضوابط احداث بنا در چنین موقعیت‌های ویژه‌ای، ما را برای ورود به طرح و اجرای پروژه فودهال دیدار مردد کرده بود. با این‌همه، عمومی‌بودن پروژه باعث می‌شد این موقعیت ویژه در سیطره عموم باقی بماند، و بر خلاف خصوصی‌سازی‌هایی که تنها در اختیار تعداد معدودی بهره‌بردار قرار می‌گیرند، از دسترس عموم خارج نشود.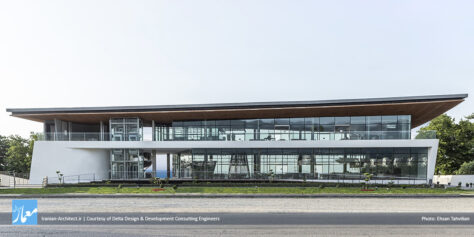 با رعایت حریم دریا و جاده، تنها در ۱۵ درصد جنوبی زمین امکان ساخت وجود داشت که این امر از آزادی عمل در تعیین سطح اشغال بنا در سایت می‌کاست و گزینه‌های انتخابی را محدود می‌کرد. در ابتدا سعی شد که تراز همکف به فضای بسته اختصاص داده نشود تا فضایی با چشم‌انداز آزاد در این تراز وجود داشته باشد؛ اما این امر عملی نشد. بنابراین ایده اصلی طرح بر این استوار شد که فضابندی‌ها به‌گونه‌ای باشند که حداکثر شفافیت ممکن در بدنه‌های جنوبی و شمالی به دست آید و کمترین مانع در ارتباط با دریا از سمت جاده وجود داشته باشد. فاصله‌گرفتن از بدنه‌های شرقی و غربی سایت و ایجاد حفره‌ای در میانه‌های حجم نیز در همین راستا بود تا دسترسی به دریا بدون الزام به عبور از فضایی بسته میسر شود.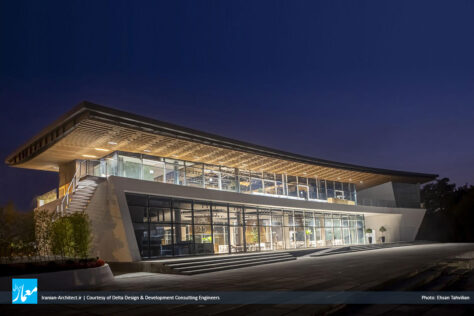 دیاگرام اصلی طرح ما را به قاب ساده‌ای رساند که در اجرا سعی شد تا حد ممکن، بیشترین ظرافت و کمترین جرم را داشته باشد. پس از تثبیت این دیاگرام، پارامترهای محیطی ناشی از هم‌جواری با دریا و نیز محور حرکتی جنوبی، با در نظر گرفتن نیازهای فضایی مجموعه، در شکل‌گیری معماری پروژه موثر واقع شدند و حال و هوای ویژه‌ای به فرم و فضای آن افزودند.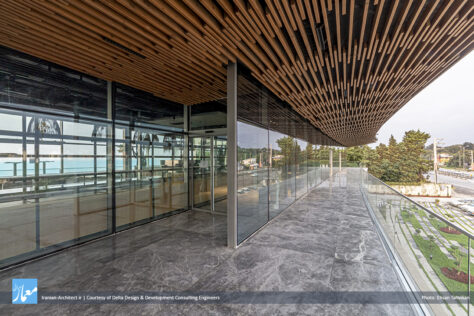 ایجاد تعلیق در رابطه ‌حجم با بستر، از طریق فاصله‌گرفتن از زمین، و همچنین ایوان‌های پیرامونی فضاها در طبقه اول، از الگوهای مرتبط با معماری منطقه هستند که در ناخودآگاه ما بوده‌اند. قاب ساده‌ پوشیده از رنگ سفید و سقف چوبی بر فراز آن نیز از طریق برقراری ارتباط با مصالح بومی منطقه، نقش مهمی در ایجاد احساس تعلق بنا به خطه‌ شمال کشور ایفا می‌کنند. ذکر این نکته نیز لازم است که مبلمان و تجهیزات پروژه را خود بهره‌بردار انتخاب کرده است.
Didar Foodhall
Delta Design & Development Consulting Engineers (Ahmadreza Heidari)
Location: Sisangan, Nowshahr, Mazandaran, Iran
Date: 2022
Area: 5,400 sqm
Status: Completed
Client: Mohammadreza Moltaji
Design Team: Tohid Hashemi Shahraki, Mohammad Hossein Koushesh, Fereshteh Makaremi
Technical Design: Robert Keshishian, Mousa Soltanian, Naghmeh Noohjah, Reyhaneh Karimian, Anahita Raeisi, Negin Sohrabi
Structure: Samir Avestakh, Hamed Movahed
Mechanical Engineering: Hossein Kamrava
Electrical Engineering: Pedram Vakili
Construction: Delta Design & Development Consulting Engineers (Mohammadreza Heidari)
Construction Team: Seyed Naser Rezvani, Meysam Afshar, Arastoo Keyhani
Lighting Design: Partofam Company
Graphic: Fereshteh Makaremi, Danial Jalilian, Yousef Salemi
Photo: Ehsan Tahvilian
Didar Foodhall is located in the vicinity of the Caspian Sea and Sisangan forest in northern Iran. In compliance to the sea and road setback regulations, the building could be constructed only on the 15 percent of the south of the site. This limited the options in locating the footprint of the building in the site. First, we tried to avoid designating the ground level to a closed space, to have a more open view, but it was not feasible. Therefore, we based the main idea on a space layout that would allow maximum transparency in the southern and northern facades, which would consequently lead to less obstructions on the connection with the sea from the side of the road. Distancing from the eastern and western edge of the site, and creating a hollow space in the middle of the volume, were to facilitate the walkway connection to the sea without the need to pass through a closed space.
The main diagram of our design led us to a simple frame that could be implemented most delicately and with the least mass. After establishing this diagram, the environmental parameters prompted by the vicinity to the sea and the southern lane, became effective in the formation of the project's architecture considering its spatial needs, granting a certain atmosphere to the form and the space.
Creating volume suspension in relation with the context, by distancing from the ground, and the surrounding terrace on the first floor, were patterns of the local architecture of the region, residing in our unconscious. The simple frame covered in white and the wooden roof, both connected with the vernacular materials of the region, had a crucial role in creating the sense of building's belonging to northern Iran. It is noteworthy that the furniture and the accessories were selected by the client, when the project was completed.