سالن زیبایی شکرنیا
استودیو معماری چهار (کسری شفیعی‌زاده، حسین زین‌آغاجی، محمدیوسف صالحی، آیدین وس‌کاه)
موقعیت: تهران، ایران
تاریخ: ۱۳۹۵
مساحت: ۸۸ مترمربع
وضعیت: ساخته‌شده
کارفرما: خانم شکرنیا
گرافیک: نگار نبوی طباطبایی، آیدا افصحی
عکس: هامون مقدم
سالن زیبایی شكرنیا، مركز ارایه خدمات آرایشی و بهداشتی برای بانوان است که در ساختمانی در خیابان سعادت‌آباد واقع شده است. كاربری سابق این واحد، اداری با فضاها و عملكردهای مغشوش بود و بی‌ارتباط با موضوع آرایشگاه به نظر می‌رسید و خواسته كارفرما، داشتن فضایی لوكس، در عین حال لطیف و با حداكثر فضای خدمات، در مساحت ۸۸ مترمربع بود.
ایده اصلی شكل‌گیری طرح، ایجاد فضاهای مجزا برای كاربری‌های متفاوت، در عین یكپارچگی در كالبد است. در همین راستا، جعبه‌هایی با رنگ‌های متفاوت، به منظور تفکیک فضاهای كثیف و تمیز از یكدیگر و ایجاد فضاهای نیمه‌بسته و بسته در نظر گرفته شد تا فضاها از لحاظ بویایی و صوتی برای یكدیگر مزاحمت ایجاد نكنند. كاربر می‌تواند به بعضی از این جعبه‌ها وارد شود، ولی بعضی از آنها تنها از پروژه عبور می‌كنند. گستردگی فضا این امكان را به مشتریان می‌دهد که حس حضور در یك سالن مد (Catwalk) كوتاه و خصوصی را تجربه كنند.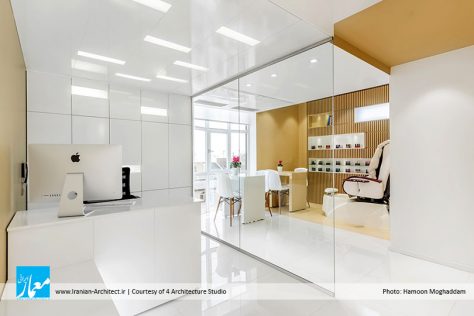 رنگ بژ محیط، به عنوان یکی از رنگ‌های لوکس ایرانی، برای جداسازی فضاها و پیش‌برد ایده پروژه انتخاب شد. نورپردازی پروژه نیز به عنوان یكی از فاكتورهای تاثیرگذار در حصول حداكثر بازدهی فضای آرایشگاهی، با توجه به استانداردهای لازم طراحی شده است. همچنین انتخاب گیاه سانسووریا و سیستم آبیاری هوشمند به منظور تصفیه طبیعی هوای محیط، تلطیف فضا را به همراه دارد.
Shokrniya Beauty Salon
4 Architecture Studio (Kasra Shafieezadeh, Hossein Zeinaghaji, Mohammad Yousef Salehi, Aidin Voskah)
Location: Tehran, Iran
Date: 2016
Area: 88 sqm
Status: Completed
Client: Mrs. Shokrniya
Graphic: Negar Nabavi Tabatabaei, Aida Afsahi
Photo: Hamoon Moghaddam
"Shokrniya Beauty Salon" provides cosmetic and hygienic services for ladies. The building seemed to be primarily built for office affairs and the spaces could not meet the needs of a beauty salon. The employer aimed at a deluxe and inspiring environment in 88 square meters space to offer the services.
The main idea of the project is to produce separate spaces with different functions which are at the same time parts of a whole structure, in the form of boxes in two colors which differentiates the dirty and clean spaces. This boxes are closed or semi-closed without any acoustic or olfactory disturbances. The customer will have enough space to experience a private catwalk. It is possible to pass through some of the boxes, but some others are just parts of the design.
The lights are designed according to the required standards, as one of the effective factors to get access to the maximum space for cosmetic services. Choosing the Sansevieria plant to have a particular consideration to air conditioning have provided a friendly atmosphere.