ساختمان اداری آرمانی ۲۳
علیرضا سه‌ده‌زاده
موقعیت: تهران، ایران
تاریخ: ۱۳۹۹
مساحت: ۴۱۰۰ مترمربع
وضعیت: ساخته‌شده
کارفرما: علی توکلی، مهدی سه‌ده‌زاده 
تیم پروژه: مهدی سه‌ده‌زاده، امیر توکلی، علیرضا خورشیدی، یعقوب صلاح‌الدین 
عکس: محمدحسن اتفاق، علیرضا سه‌ده‌زاده
ساختمان اداری آرمانی ۲۳ با شش طبقه اداری تک‌واحدی، یک لابی و چهار طبقه پارکینگ، در میان بافت قدیمی مسکونی کوچه شهریار، در خیابان شیراز شمالی واقع شده است. از آنجایی که بر اساس ضوابط شهرداری، ساختمان می‌بایست در دو طرف نمای جنوبی، پخ‌های ۴۵ درجه داشته باشد، لذا در طراحی نما، سعی بر آن شد تا این نقاط ضعف (ناهمگونی کاربری با بافت زمینه و پخ‌های طرفین نما) به شاخصه‌های اصلی طرح تبدیل شوند.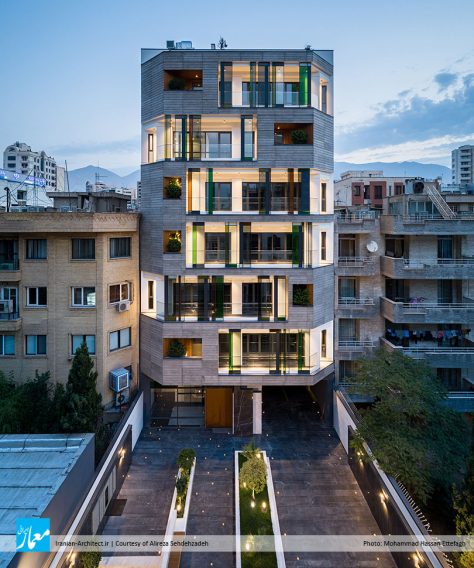 استفاده از قاب‌هایی با ترکیب فلز و شیشه‌های رنگی در جلوی بالکن‌های سراسری ضلع جنوبی، باعث شد تا علاوه بر تلطیف نور داخلی واحدها و ایجاد پرسپکتیوهای متفاوت در طبقات مشابه اداری، حس سرزندگی و تازگی در بنا تقویت شود، به گونه‌ای که این ساختمان میل وافر خود به دیده‌شدن و به یاد سپرده‌شدن در میان ساختمان‌های قدیمی مجاور را به رخ بیننده می‌کشد.
بازی باکس‌های بتنی در طرفین نما، با جابه‌جایی در طبقات مختلف و در میان گرفتن فلاور‌باکس‌های چوبی، ذهن بیننده را از پخ‌های اجباری دو طرف نما منحرف و این نقیصه را به نقطه عطفی در نما تبدیل می‌کند.
Armani 23
Alireza Sehdehzadeh
Location: Tehran, Iran
Date: 2020
Area: 4,100 sqm
Status: Completed
Client: Ali Tavakoli, Mehdi Sehdehzadeh
Project Team: Mehdi Sehdehzadeh, Amir Tavakoli, Alireza Khorshidi, Yaghoub Salahedin
Photo: Mohammad Hassan Ettefagh, Alireza Sehdehzadeh
This six-story building has an individual office in each floor and there is a lobby and four underground stories for parking. Being the only office building in the neighborhood surrounded by old residential blocks, in fact, bring the main design ideas. Due to the municipality's law, the building must have chamfer at each corner of south elevation, but during the design process, designer takes advantage of these limitations and turns them into opportunities.
Using a combination of metal frames and colored glasses in south elevation, not only balances the amount of natural light in the interior spaces, and providing various perspectives from typical floors, but also make the facade more dynamic. All mentioned features make this building spectacular and memorable in the neighborhood.
Concrete texture with wooden flower boxes inside them, which located in different position in each floor, can totally distract viewer's attention from side chamfers and other unpleasant factors in the surroundings. All in all, creativity always have a solution for any problem.