ویلای کوهسار
دفتر معماری دیگر (علیرضا تغابنی)
فینالیست دومین دوره جایزه شایستگی معمار ایرانی (۱۳۹۸)
موقعیت: کردان، کرج، ایران
تاریخ: ۱۳۹۱
مساحت: ۱۱۱۸ مترمربع
وضعیت: ساخته‌شده
کارفرما: فرشته کریمیان، خسرو زمردی
طراح: علیرضا تغابنی
توسعه طراحی: روح‌الله رسولی
همکاران طراحی: مسعود ساقی، فریده آقامحمدی
نظارت بر اجرا: مسعود ساقی، روح‌الله رسولی
مشاور مقاوم‌سازی سازه: وحید قره‌خانی
مشاور تاسیسات مکانیکی: هوفر اسماعیلی
مشاور تاسیسات الکتریکی: نینا عموشاهی
مشاور لندسکیپ: بابک مستوفی صدری
اجرا: شرکت اجرای خاص، سروش علی‌پور
همکار اجرا: فرزاد لطف‌اللهی
گرافیک و ارائه: هیوا فرج‌پور بختیاری، فرزاد کفایی، عسل کرمی، سپیده صراف‌زاده زرگر
عکس: پرهام تقی‌اف، ماندانا منصوری
جوایز: رتبه دوم گروه مسکونی جایزه معمار ۱۳۹۱
این پروژه، در حقیقت، حل یک معضل بود؛ زمانی به ما مراجعه شد که اسکلت و دیوارچینی انجام شده و یک سالی بود که به دلیل نارضایتی کارفرما، کار متوقف شده بود. در مرکز ویلا، فضای خالی هشت‌ضلعی وجود داشت که با ستون‌هایی محاط شده بود و کارفرما از شکل و اندازه آن ناراضی بود و پروژه را خفه و بسته می‌دید.
ما به این نتیجه رسیدیم که تنها راه نجات پروژه، تبدیل این نقطه ضعف به نقطه قوت است. بنابراین با بزرگ کردن فضای خالی و حذف قسمت جنوبی آن، دید ساختمان باز شد و با تقویت سازه، کنسول جنوبی به تراس ساختمان اضافه شد تا با حذف اضافات دیگری مثل ورودی کناری و کلاه فرنگی روی سقف، پروژه به صورت یک مکعب درآید و ضلع جنوبی آن به داخل ساختمان کشیده شود و با چرخیدن دور فضای خالی، هم ستون‌ها را در خود حل کند، هم ارتباط پیوسته‌ای بین درون و بیرون برقرار سازد.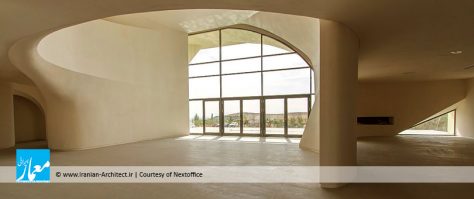 دیوار جنوبی که نمای ساختمان را می‌ساخت، بر اساس عملکردهای داخلی مثل ورودی اصلی، تراس اتاق خواب اصلی و یا نورگیرهای فضای شومینه تغییر شکل یافت و با ایجاد حفره‌ای در نما، دید و جریان هوا را در خود مکید و یکه و ممتاز در سایت نشست.
سیستم سازه، تیر و ستون فلزی بود که به دلیل اضافه شدن بخش‌هایی به ساختمان و حذف بخش‌هایی دیگر و همچنین ضعف‌های سازه گذشته، مورد محاسبه مجدد قرار گرفت و کل سازه مقاوم‌سازی شد. دیواره منحنی نیز برای حمل بار کنسول اضافه شده، عملکردی سازه‌ای یافت.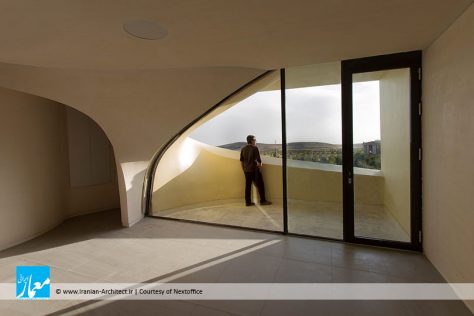 ویلای کوهسار در سه طبقه طراحی شده است که در طبقه همکف آن، فضاهای عمومی به همراه یک اتاق خواب مهمان قرار دارد، در طبقه اول، اتاق‌های خواب به همراه نشیمن خصوصی و در زیرزمین، فضاهای استخر، سونا و جکوزی طراحی شده است.
Kouhsar Villa
Nextoffice (Alireza Taghaboni)
Finalist of Iranian Architect Merit Award 2019
Location: Kordan, Karaj, Iran
Date: 2012
Area: 1118 sqm
Status: Completed
Client: Fereshteh Karimian, Khosro Zomorodi
Design: Alireza Taghaboni
Design Development: Roohollah Rasooli
Design Associates: Masoud Saghi, Farideh Aghamohammadi
Supervision: Masoud Saghi, Roohollah Rasouli
Structural Strengthening Consultant: Vahid Gharekhani-nia
Mechanical Consultant: Hoofar Esmaeeli
Electrical Consultant: Nina Amooshahi
Landscape Consultant: Babak Mostofisadri
Construction: Ejraye Khas Office
Graphic & Presentation: Hiva Farajpour Bakhtiari, Farzad Kafaee, Asal Karami, Sepideh Sarrafzadeh Zargar
Photo: Parham Taghioff, Mandana Mansouri
Awards: 2nd Place of Memar Award 1391
Our initial intention for the project was in fact to problematize the connection amongst form, space, and structure. The project came to our studio after a year of being on hold, due to the client's dissatisfaction. The skeleton and barrier walls of the structure were thoroughly constructed. There was a central, octagonal void surrounded by columns, which was exactly what had made the client unhappy, due to its shape and size, this void could not exhibit the wide, bright interior he desired.
We realized the only way to revive the project was to take this problem as an opportunity rather than an obstacle to progress. Accordingly, expanding the central void and discarding the southern part of the balcony provided a wider view of the landscape. Next, we enhanced the structure and attached the south cantilever to the existing balcony. Doing this, and removing the lateral slabs and gazebo roof structure, transformed the overall volume to a cubic form.
Next, the southern-facing façade wall stretched in an elastic manner towards the interior void, where it covered the columns and made a smooth connection between in and out. This allowed the southern wall to perform a fundamental role as a flexible element that not only responded to structural necessities, but also attempted to engage with the aesthetics, functionality, and spatial organization of the both interior and exterior.
In the end, the façade's surface would satisfy the requirements of the plan and insert a sense of dynamism and fluidity throughout the house. This organizational strategy would propose a body in which a strong vacuum action applied to the façade could convey the light, air flow, and vistas inwards to demonstrate the innovative qualities of this highly distinctive work.
The house would rest in a wide landscape, capturing the delightful vistas of the Alborz Mountains in the background. Considering structural constraints, the design strategy followed a path by which the initial skeleton could be transformed to encompass pure cubic volume that made it distinctive in its neighborhood. The outcome was a cube, hosting an elastic façade that resulted from a dynamic vacuum tension on the southern face. Stretching the façade towards the void and columns did not merely meet the structural necessities, but also provided spatial qualities for both the interior and exterior.