سایه‌روشن
دفتر معماری زما (رضا مفاخر)
فینالیست سومین دوره جایزه شایستگی معمار ایرانی (۱۳۹۹)
موقعیت: ساری، ایران
تاریخ: ۱۳۹۲
مساحت: ۱۲۰۰ مترمربع
وضعیت: ساخته‌شده
کارفرما: آقای پسندیده‌فر
همکاران طراحی: شمسا مخبر، سیمین رمضان‌پور
ارائه: محمد امینیان، حامد سرحدی، تینا رکنی
عکس: مسیح مستاجران
بلوار فرح‌آباد، ساری را به دریا متصل می‌کند؛ مسیر توریستی پرترددی که در عین شاه‌راه بودن، تردد سنگین در آن صورت نمی‌گیرد، گذری که مثل تمام معابر شمال ایران، همان‌طور که عابر سمت نگاهش به دیواره مسیر است، شهر ساری را به آرامش دریا می‌دوزد، بلواری که سکانس به سکانس و بنا به بنا، در ذهن و خاطره انسان شکل گرفته است، سایه‌روشنی از ساختمان‌هایی که زمان را روایت می‌کنند، روایتی که از منظر انسانی تا انسان دیگر، معانی پرشماری می‌دهد.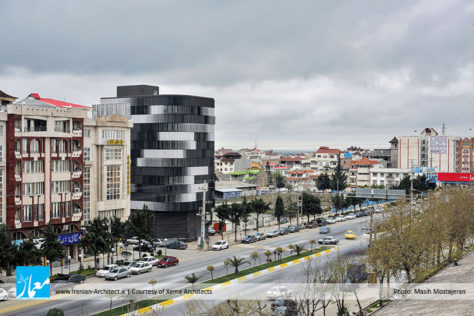 ایده اصلی طرح، خلق نمایی است با ساختاری کاملا ایستا که به خاطر دینامیک‌بودن موقعیت ناظر، شمایی از معماری تعاملی را ایجاد می‌کند و تمامی این پویایی را با بهره‌گیری از تضاد مطلق دو سر طیف خاکستری آکروماتیک می‌آفریند؛ صفحاتی عمودی که یک روی سیاه و روی دیگر سفید دارند.
چیدمان صفحات عمودی در طول دو وجه ساختمان که نبش کوچه قرار گرفته‌اند، تعداد نامحدودی سکانس پدید آورده است که حاصل میزان حضور سهم روی سیاه و روی سفید مدول نما در خلق سایه‌روشن آن لحظه از بنا هستند، سکانس‌هایی از خاکستری‌های خنثی که در کنار بازتابی منحصربه‌فرد از پیرامون، بسته به موقعیت ناظر، سایه‌روشنی کروماتیک می‌آفریند که تنها متعلق به همان تجربه از همان کاربر است.
Penumbra
Xema Architects (Reza Mafakher)
Finalist of Iranian Architect Merit Award 2020
Location: Sari, Iran
Date: 2013
Area: 1,200 sqm
Status: Completed
Client: Mr. Pasandidehfar
Design Associates: Shamsa Mokhber, Simin Ramezanpour
Presentation: Mohammad Aminian, Hamed Sarhadi, Tina Rokni
Photo: Masih Mostajeran
Farahabad Boulevard ties the city of Sari to the Caspian Sea creating a main tourism route. It is a northern Iran's routes that creates moments grasping the attention of the observer as continues linking the city to the sea without the acknowledgement of the distance traveled, A boulevard covering diverse buildings, representing different periods of time that creates a metaphoric film sequence, a narrative of perception that differs from one observer to the other.
The main purpose of this project is to create a façade with a static structure that creates a representation of interactive architecture, due to the mobility of the observer's coordinate. This entire dynamic originates with exploitation from the absolute contrast of the two endings of the achromatic gray spectrum. It's created from vertical surfaces with black and white faces. It constructs unlimited sequences, due to the portion of the appearance of black and white sides of the facet module, in the creation of a shade of the facet in that specific moment. Sequences of neutral gray alongside an incomparable reflection of environment, creates a chromatic tone that only belongs to that specific experiment of observer in time.