گلدان
دفتر معماری زیما (علیرضا جوانمرد)
راه‌یافته به مرحله نیمه‌نهایی نخستین دوره جایزه شایستگی معمار ایرانی (۱۳۹۷)
موقعیت: تهران، ایران
تاریخ: ۱۳۹۴
مساحت: ۴۷۴۳ مترمربع
وضعیت: ساخته‌شده
کارفرما: مهندس تدین، مهندس حبیبیان
همکار طراحی: امیر ابریشمی
سازه: مهندس غیوری
تاسیسات مکانیکی: جواد کامیاب
تاسیسات الکتریکی: سامان صراف
اجرا: کنگره‌سازان
مدیر اجرایی: مهندس فکوری
عکس: پرهام تقی‌اف، امیر ابریشمی
میلیون‌ها انسان در واحدی به نام شهر تهران زندگی می‌کنند که هریک به طریقی، به دنبال نمایش هویت خود هستند و مسکن همواره یکی از اصلی‌ترین بسترهای نمایش هویت انسان بوده است. معماران و شهرسازان تهران نیز با سخاوتی بی‌نظیر در طول تاریخ این شهر، مجموعه‌ای از انواع بناها را، از رومی گرفته تا سنتی، در اختیار شهروندان تهرانی قرار داده‌اند و همیشه افرادی مشغول انتخاب، خرید و فروش و جابه‌جایی در این بازار پیچیده، متنوع و پرهیاهو هستند.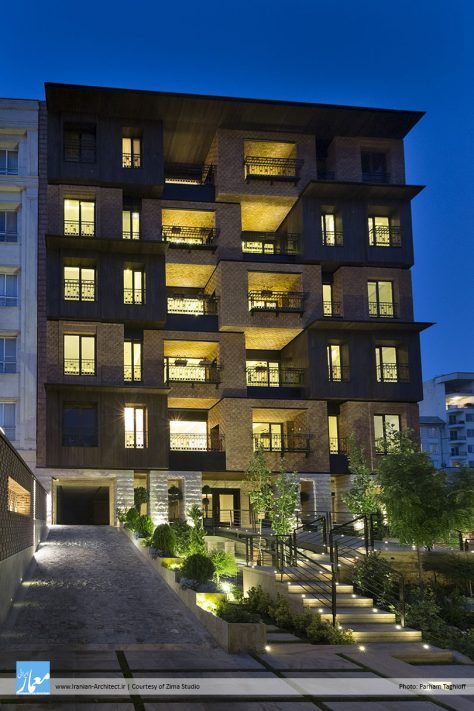 ما در پروژه گلدان، به دنبال خلق فضایی آرام، صمیمی، متواضع، و بدون هیاهو و پیچیدگی بوده‌ایم. بعد از گذشتن از پلی که حیاط را به بنای اصلی متصل می‌کند، مکعب‌های آجری و چوبی متعددی که نماینده زندگی‌های مختلف جاری در کلیت بنا بودند، روی هم قرار گرفته و یک مکعب واحد را به وجود آوردند. لغزش و تورفتگی مدول‌ها نیز بازی آرامی را در حجم کلی به وجود آورد و سپس سایه‌بان‌ها، نرده‌ها و جاگلدانی‌های فلزی، با جزییات ظریف و دقیق، روی نما نشستند. در انتها، گلدان‌های متنوعی که ساکنین متناسب با سلیقه خود، بر روی جاگلدانی‌ها و تراس‌ها قرار می‌دهند، بازی مکعب‌ها را کامل می‌کنند و پروژه گلدان را شکل می‌دهند.
Goldan
Zima Studio (Alireza Javanmard)
Semi-Finalist of Iranian Architect Merit Award 2018
Location: Tehran, Iran
Date: 2015
Area: 4,743 sqm
Status: Completed
Client: Mr. Tadayon, Mr. Habibian
Design Associate: Amir Abrishami
Structural Consultant: Mr. Ghayouri
Mechanical Consultant: Javad Kamyab
Electrical Consultant: Saman Sarraf
Construction: Kongerehsazan Co.
Construction Manager: Mr. Fakouri
Photo: Parham Taghioff, Amir Abrishami
Millions of people are living in a unit called "Tehran City"; All of them are trying to show their special identity through this whole unit. Habitation has been always one of the most important ways to show human's identity. Architects and urban designers offer citizens tons of collections of buildings, from Roman to traditional, which is really unprecedented during Tehran history. Thousands of people are involved in trading through this complicated market every day.
Our main intention in Goldan project was to create calm, humble and intimate spaces. We put wooden and brick cubes on each other, which were the metaphor of different life styles in the project, to form the big cube. Cubes were slid, pushed and pulled to create light movement on the facade. In the next step, metal awnings, handrails and flower boxes with accurate details, were added. In the end, the project will be completed when the flowers are planted in balconies and flower boxes by habitants, based on their tastes.