ساختمان مسکونی پارک
بهزاد اتابکی
راه‌یافته به مرحله نیمه‌نهایی نخستین دوره جایزه شایستگی معمار ایرانی (۱۳۹۷)
موقعیت: تهران، ایران
تاریخ: ۱۳۹۶
مساحت: ۴۱۹۵ مترمربع
وضعیت: ساخته‌شده
کارفرما: رضا فرح‌بخش
همکاران طراحی: محمدرضا بادله، گلشن نریمانی، آرزو زارع‌دار، یاسمن لشگری
سازه: مهبان‌ سازه
تاسیسات مکانیکی و الکتریکی: مهبان‌ سازه
اجرا: حسن فرح‌بخش
عکس: پرهام تقی‌اف، بهزاد اتابکی
کنترل نور، دید، تنظیم انرژی و به طور کلی، نوعی حفاظت را اگر از ویژگی‌های عمومی پرده‌ روی پنجره بدانیم، از دید عابر بیرونی، حرکت آرام پرده‌ پارچه‌ای آویخته در پشت پنجره‌ای نیمه‌باز، علاوه بر این ‌که حکایت از حضور "انسان" دارد، انعکاسی است از وجود "خانه"‌ای "دایر" در پس.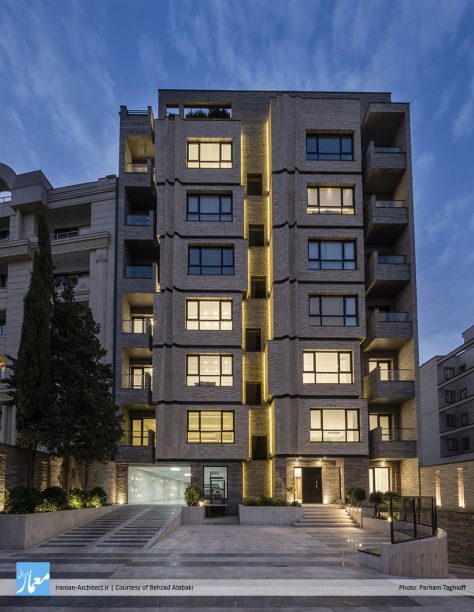 تراوش مفهوم پرده از درون به بیرون خانه و تجسّد آن، نه فقط بر روی پوسته که با تبدیل‌شدن به خود پوسته‌ دربرگیرنده‌ خانه، در واقع، انعکاس این حرکت نرم و آزاد پرده‌ درون خانه است. این مکالمه در قالب مجموعه‌ای از دانه‌های گوشه‌دار و نامنعطف آجر با رنگی روشن، در پس‌زمینه‌ای تیره‌تر ظاهر می‌شود. به‌تصویرکشیدن این مواجهه‌ متناقض و لایه‌لایه، بستری را پدید آورده که این پروژه در کنار پاسخ به نیاز انسان معاصر از آرامش، تعلیق و یکپارچگی درون خانه‌، به دور از همهمه‌ شهر امروز، به دنبال بیان آنها بوده است.
Park Residential
Behzad Atabaki
Semi-Finalist of Iranian Architect Merit Award 2018
Location: Tehran, Iran
Date: 2017
Area: 4,195 sqm
Status: Completed
Client: Reza Farahbakhsh
Design Team: Mohammadreza Badeleh, Golshan Narimani, Arezou Zaredar, Yasaman
Lashgari
Structure: Mahban Sazeh Co.
Mechanical & Electrical Consultant: Mahban Sazeh Co.
Construction: Hassan Farahbakhsh
Photo: Parham Taghioff, Behzad Atabaki
Our conceptual image of a home is a haven far from the madding urban crowd, away from noise, visual pollution, and a place of retreat from everyday worries, where we can rest and rewind. However, what comes first to the mind when thinking of the inner space of "home", is the notion of "protection" – against all above. Standing for such a sense of security would be the "curtain" hanging and dancing, "symbolizing" a home behind.
Creating a shared ground between architecture and the city, in this building as a group of "homes", the curtains swinging with the breeze, which would call up the image of a warm hearth and home, acting both as a representation of a house guard without and the warmth within, have been used as the façade so as to recall the moment when they swinging in the breeze along the soft rows of "bricks", have just stepped aside to let the light into the pleasant space of the house they encurtain. For the brick surface to be easily observable, it was decided that the brightest-colored bricks be used; Moreover, brick-covered cubes are installed over darker and rough surfaces of stone-covered background.