حیاط معمار | حیات معمار
سیدحامد حسینی
موقعیت: تهران، ایران
تاریخ: ۱۳۹۶
مساحت: ۶۰ مترمربع
وضعیت: ساخته‌شده
کارفرما: سیدحامد حسینی
تیم طراحی: سیدعماد میرعمادی، شادی شادمان‌روز
گرافیک: ملیکا عسگری سرشگ، فاطیما عبیری
عکس: محمدحسن اتفاق
با توجه به رشد بی‌رویه ساخت‌وساز و از بین رفتن باغ‌ها و حیاط‌ها، طراحان پروژه، باززنده‌سازی نوعی حیاط یکپارچه در فضای داخلی یک دفتر معماری را به عنوان ایده اصلی طراحی قرار دادند تا علاوه بر نگاه انتقادی به وضعیت ساخت‌وساز، با لحاظ‌کردن یک امر نو در فرایند طراحی داخلی، در به وجود آوردن یک تجربه فضایی متفاوت قدم بردارند، به ویژه اینکه ساختمان پروژه با سطح اشغال صد درصد و بدون حیاط ساخته شده است.
کاربری پروژه پیش از بازسازی، یک واحد مسکونی کوچک و حدودا بیست‌ساله در یکی از ساختمان‌های فاقد کیفیت دهه هفتاد شمسی بود که به دلیل قرارگیری در سطح زیر همکف، و نیز به علت بالابودن سطح آب منطقه قیطریه، فضایی نم‌دار و تا حدی بدبو داشت. از جمله محدودیت‌های موجود در این پروژه، قرارگیری واحد در ترازی پایین‌تر از معبر بود که کمبود نور را به همراه داشت و ما با ایجاد اسکای‌لایت در جبهه غربی ملک، ورود نور طبیعی روز به داخل پروژه را امکان‌پذیر کردیم. همچنین تاسیسات مکانیکی و الکتریکی پوسیده از رطوبت، به طور کامل برچیده شد و کف‌ها و دیوارها به منظور کنترل رطوبت موجود، و نیز به جهت نیازهای جدید پروژه (فضای سبز ایجادشده)، به شکل کامل و اصولی، زهکشی و عایق‌بندی شدند. سیستم سرمایش قبلی نیز کولر آبی بود که با وجود رطوبت محل، بسیار نامناسب بود و اسپیلت جایگزین آن شد.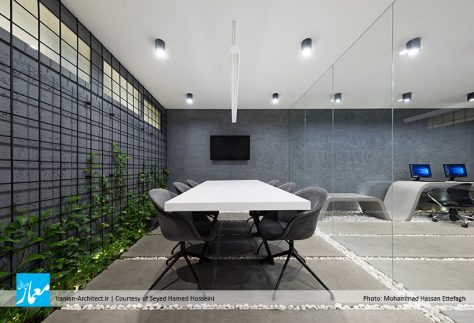 تغییر کاربری مسکونی به آتلیه معماری، نیازهای فضایی متفاوتی را می‌طلبید که مستلزم تخریب کامل دیوارها و تغییر کلی در پلان بود. همچنین تعدد عملکرد در فضایی با مساحت ۶۰ مترمربع، منجر به خلق سطوح عملکردی بسیار خرد و کوچک می‌شد. لذا می‌بایست با وجود جداسازی عملکردها، فضاها خرد نمی‌شدند. به همین دلیل، تخریب کامل دیوارهای وضع موجود و ایده استفاده از شیشه به عنوان جداکننده اصلی فضاها، شکل گرفت تا ضمن تفکیک مناسب و ایده‌آل، مانعی از نظر بصری ایجاد نشده و فضاها در عین یکپارچگی، از هم جدا شوند. حفظ سادگی با استفاده از رنگ‌های خنثی، و بهره‌گیری از امتداد المان‌های کف به عنوان مبلمان، از دیگر مواردی است که در جهت همگن‌ساختن پروژه تاثیر به‌سزایی داشته و حس یکپارچگی مناسبی در فضا ایجاد کرده است.
هر پروژه صرف‌نظر از مباحث زیبایی‌شناختی و حسی، چالش‌های اجرایی و کاربردی متفاوتی را برای معمار ایجاد می‌کند، به ویژه آنکه اهداف عملکردی خاص و تجربه‌های فضایی متفاوتی مدنظر طراح باشد. از آنجایی که حیاط به طور عام، فضایی باز است و ما سعی کردیم این فضا را در محیطی سرپوشیده ایجاد کنیم، لذا نحوه برخورد با آن، در مواردی از جمله نظافت، با راهکارهای مناسب فضای باز صورت گرفته، بدین‌صورت که سنگ‌ها با روکش نانو محافظت شده و در زیر تمام شیارهای سنگی، زهکش‌هایی برای هدایت آب ناشی از نظافت به فاضلاب تعبیه شده است. همچنین برای جلوگیری از پوسیدن گیاهان در اثر تجمع آب ناشی از آبیاری قطره‌ای در محل ریشه‌ها، زهکش‌های سنگی منتهی به فاضلاب ایجاد شده‌ است.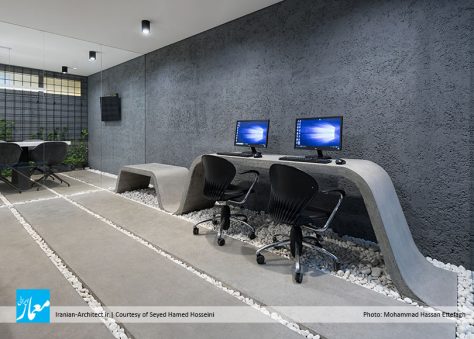 واردکردن کف‌های سنگی طبیعی به فضای داخلی، در نقاط خاصی منجر به اختلال در عملکرد می‌شد که با تثبیت سنگ‌ها و ممانعت از حرکت آنها در این محل‌ها، گامی در راستای کاهش این اثر برداشته شد. همچنین ابعاد اسلب‌های بتنی کف و قرارگیری آنها در مقابل میزها، به نحوی تنظیم شده است که صندلی‌ها در زمان استفاده، روی سطح بتن قرار گیرند.
Architect's Yard | Architect's Life
Seyed Hamed Hosseini
Location: Tehran, Iran
Date: 2017
Area: 60 sqm
Status: Completed
Client: Seyed Hamed Hosseini
Design Team: Seyed Emad Miremadi, Shadi Shademanrooz
Graphic: Melika Asgari Sereshg, Fatima Abiri
Photo: Mohammad Hassan Ettefagh
Due to the overwhelming growth of building constructions in Tehran, and the disappearance of Persian gardens and yards, the project designers placed the main design idea on revitalizing the yard as an integrated unit! So, in addition to taking a critical regard at the present construction situation, by incorporating a new order into the interior design process, this project is moving towards creating a different spatial experience, especially that the project building was constructed with a 100% occupancy level without a yard.
The unit's orientation in the lower level of the path, led to a lack of light. The exhilaration and vitality of space with natural elements, could partly offset this deficiency. So, the idea of having a courtyard seemed very desirable and pleasant. It was so that the shaft became a small and green courtyard, and its roof lighting was shaped in a way that inspired the natural radiation of the day.
Generally, the parameters of the designer's emphasis are large, integrated, and elevated spaces with natural elements (plants and water flows). No need for privacy in the studios and meetings, formed the glass walls that in spite of the ideal and suitable separation, did not create an obstacle visually, and the spaces were separated. It is important to preserve the simplicity by using the neutral colors, and the furniture attached to the main components, in a way that has a significant effect in making the project homogeneous, so that hours of presence in space have the lowest sense of exhaustion and uniformity. The use of floor elements as furniture, which reduces the visual disturbances resulting from the presence of furniture to a significant extent, by creating a sense of integrity in space, reducing the uniqueness of these elements in the space.
In construction of the project, most of components have been made by hand, at the working-place, such as floor concrete, wall mantle, metal, and concrete tables, and even furniture. Therefore, just raw materials have been provided, and then combined and made at the working-place. Hence, the factor for choosing materials and brands is only their quality.