ویلای کوهسار
شرکت طرح و ساخت ازنو (احسان توسلی، سولماز تاتاری)
راه‌یافته به مرحله نیمه‌نهایی پنجمین دوره جایزه شایستگی معمار ایرانی (۱۴۰۱)
موقعیت: کوهسار، کرج، ایران
تاریخ: ۱۳۹۷
مساحت: ۴۷۰ مترمربع
وضعیت: ساخته‌شده
کارفرما: آقای مجدالحسینی
تیم پروژه: زهرا جعفری، مرضیه دهقان، بهمن زارع، نیلا شاه‌محمدی، رعنا قمرصورت
عکس: علی دقیق
پروژه ویلایی کوهسار در زمینی به مساحت ۱۴۰۰ مترمربع، در منطقه‌ای خوش‌آب‌وهوا در اطراف کرج واقع شده است. طبقه اول ویلا شامل فضاهای عمومی است که با طراحی مفصلی در عمق پلان، از یک‌سو، ارتباط با فضای استخر و جکوزی میسر شده، و از سوی دیگر، این مفصل پله‌های ارتباطی به طبقه دوم را در خود گنجانده است.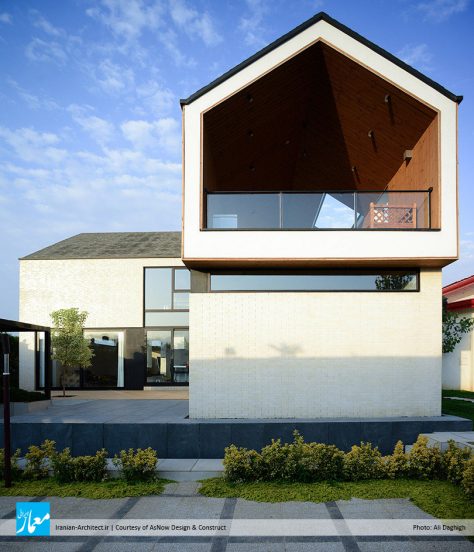 ارتباط فضاهای خصوصی طبقه اول با فضاهای عمومی همکف، نه تنها از طریق پلکان داخلی فراهم شده است، بلکه پله‌های حیاط شمالی نیز به تراس نیمه‌باز طبقه بالا منتهی می‌شوند. در حدفاصل اتاق‌های خواب (فضاهای خصوصی) و تراس شمالی (فضای عمومی) نیز نشیمن خصوصی و اتاق بازی (فضای نیمه‌عمومی) واقع شده که با حضور نورگیر سقفی و یک وید وسیع، بر اهمیت این فضا تاکید شده است.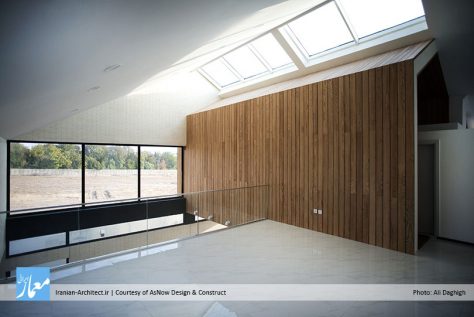 ایده اصلی طراحی پروژه، ترکیب دو المان چوبی معلق در فضاست که نه تنها شاخصه اصلی حجم هستند، بلکه با حفظ هویت خود و تداوم‌شان از خارج به داخل، به خلق فضاهای داخلی متنوع کمک می‌کنند. صداقت در معماری نیز از نمود چوب فراتر رفته و با تداوم ماهیت آجر در داخل، سعی در تکمیل نیازهای زیبایی‌شناسی مخاطب شده است.
Koohsar Villa
AsNow Design & Construct (Ehsan Tavassoli, Solmaz Tatari)
Semi-Finalist of Iranian Architect Merit Award 2022
Location: Kuhsar, Karaj, Iran
Date: 2018
Area: 470 sqm
Status: Completed
Client: Mr. Hosseini
Project Team: Zahra Jafari, Marziyeh Dehghan, Bahman Zare, Nila Shahmohammadi, Rana Ghamarsourat
Photo: Ali Daghigh
Koohsar villa is located in a pleasant area around Karaj. The first floor includes public spaces, and there is a joint space in the depth of the plan that makes possible the connection to the pool and Jacuzzi space, and it also includes the stairs connecting to the second floor.
The connection of the first floor private spaces with the ground floor public spaces is not only provided through the interior stairs, but also with the stairs of the northern courtyard that lead to the semi-open terrace of the upper floor. The private living room and the playroom (semi-public spaces), emphasized by the skylight and a large void, are located between the bedrooms (private spaces) and the northern terrace (public space).
The main idea of the project design is to combine two suspended wooden elements in the space, which are not only the main feature of the volume, but also create a variety of interior spaces while maintaining their identity and their continuity from the outside to the inside. Honesty in architecture has gone beyond the appearance of wood, and with the continuation of the brick inside, an attempt has been made to meet the aesthetic needs of the user.