بازسازی ویلا آپارتمان آ.اس.پ
امین فردوسی
موقعیت: تهران، ایران
تاریخ: ۱۳۹۹
مساحت: ۳۲۰ مترمربع
وضعیت: ساخته‌شده
کارفرما: آقای رمضانی
تیم طراحی: مینا مهرداد، ساحل نبی‌پور
مدیر اجرایی: امیرحسین فردوسی
مبلمان: خانه درسا
عکس: محمدحسن اتفاق
مجتمع مسکونی آ.اس.پ یا کوی نوبنیاد ونک، متعلق به دهه ۵۰ شمسی، و متشکل از ۳ برج مسکونی ۲۳ طبقه است که ۲۵۰ واحد آپارتمانی را در برج‌ها، و ۱۲۰ واحد ویلا آپارتمان را به صورت پلکانی، در شیب سایت و دامنه برج‌ها جای داده است. هیئت‌مدیره این مجتمع ضوابط سخت‌گیرانه‌ای برای بازسازی واحدها وضع کرده است؛ مضاف بر اینکه وجود دیوارهای برشی متعدد با دهانه‌های ۴ متری، دست طراح را در مداخلات می‌بندد.
علاوه بر مسائل عمومی پروژه‌های بازسازی که شامل به‌روزکردن متریال‌ها، بهینه‌کردن ابعاد و تناسبات فضاها بر اساس نیازهای جدید، و جزئیات اجرایی بدیع است، مسئله خاص ما در طراحی، تبدیل الگوی دهه‌پنجاهی خانه‌های دوطبقه به خانه‌ای دوبلکس بود. در واقع، طبق الگوی رایج مجتمع‌سازی مسکونی دهه ۵۰ شمسی، همانند شهرک اکباتان و …، خانه‌های دوطبقه متشکل از دو تراز ارتفاعی بودند که با یک دستگاه پله باریک یک‌طرفه به هم متصل می‌شدند، اما تعریف و سلیقه امروز می‌طلبید که ارتباط بصری طبقات با یک فضای تهی (وید) برقرار شود؛ مضاف بر اینکه پلکان قدیمی فاقد پاگرد، و از شیب تند و عرض کمی برخوردار بود، و باید فکری برای آن می‌شد. بنابراین با مدل‌سازی و بارگذاری سازه بتنی پروژه در نرم‌افزار، سطحی برای برش دال بتنی کف (کرگیری) و ایجاد وید در نظر گرفته شد، و پله با شیب بسیار نرم در وید جای گرفت. پلکان قبلی نیز تخریب و سپس با کاشت میلگرد و بتن‌ریزی پر شد.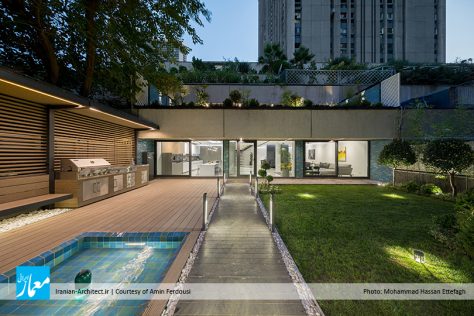 در طراحی جزئیات پروژه تلاش شد علاوه بر کارایی و ماندگاری، بدیع‌بودن در طرح و شکل محصولات نیز مورد توجه قرار گیرد، از جمله در طراحی سردر و سایه‌بان حیاط با الگوی استراکچر تیرورق؛ فریم‌لس‌ بودن درب‌های داخلی و لحاظ‌کردن ارتفاع کف تا سقف برای درب‌ها و کمدها؛ ساخت دریچه‌های مخفی برای فن‌کویل‌ها، با پوشش وودپلاست؛ کف‌شورهای خطی توکار و ساخته‌شده مخصوص این پروژه؛ و وحدت در گرافیک طرح برش سی‌ان‌سی چراغ‌ها، فلاورباکس‌ها، دستگیره درب حیاط و … .
A.S.P Villa Apartment Renovation
Amin Ferdousi

Location: Tehran, Iran
Date: 2020
Area: 320 sqm
Status: Completed
Client: Mr. Ramezani
Design Team: Mina Mehrdad, Sahel Nabipour
Construction Manager: Amirhossein Ferdousi
Furniture: Dorsa Home
Photo: Mohammad Hassan Ettefagh
A.S.P residential complex, aka Kooy-e Nobonyad-e Vanak, was built in the early 1970's, and is made of three 23-floor residential towers. This complex houses 250 apartment units inside the towers, and 120 villa apartment, shaped in a staircase format, on the towers' slopes and skirts. The board of directors of the complex has set strict policies for the renovation of the units. In addition, the existence of multiple shear walls, which are only 4 meters apart, makes new planning very difficult.
Besides general considerations commonplace to renovation projects, such as updating building materials, improving spatial dimensions and proportions based on current needs, and innovative construction details, our particular issue at hand was transforming the 1970's two-floor design to a duplex unit. In fact, in the 1970's, the common plan for building residential complexes, such as A.S.P complex and Ekbatan Town, entailed two-floor units consisted of two vertical levels connected with a narrow straight stairway. Today's taste of the owner, however, required a visual connection of the two levels through an empty space (void). Furthermore, the old stairway lacked landing platforms, and was very steep and narrow. With the aid from computer models of the loads on the concrete structure, we were able to construct a platform for concrete core drilling, and utilize the necessary void. The new stairway was built with gentler incline inside that void. The old stairway was demolished and replaced by rebars and concrete.
In designing new details, we focused on functionality, durability, as well as creativity in design, and novelty in the shape and form of the products used; to mention a few innovations: designing door transoms and the yard canopy, using plate girder structures; making frameless interior doors, and defining and incorporating ceiling heights in regards to doors and closets; building hidden hatches made of wood-plastic composite, to cover fan coil units; designing built-in linear shower drains (special-made for this project); and maintaining design unity in CNC-cut light boxes, flower-boxes, and outdoor doorknobs.