دفتر اداری فرشته
دفتر طراحی میان‌رشته‌ای کلوان (امیر یاری، سارا بروجردی، رهام احمدیان)
موقعیت: تهران، ایران
تاریخ: ۱۳۹۸
مساحت: ۱۰۰۰ مترمربع
وضعیت: ساخته‌شده
کارفرما: شرکت آریس
همکاران طراحی: مائده عاشوری، غزاله حنایی، محمدرضا واعظی
ارائه: ستاره موسوی، مهسا اردستانیان
اجرا: امید کاردگر، علیرضا سپهری
عکس: استودیو ۲۶
با توجه به قدمت ساختمان، نظر اولیه کارفرما، تخریب آن و احداث یک ساختمان جدید در محل فعلی بود که در نهایت، بر اساس نظر طراح، نسبت به بازسازی و حفظ ساختمان موجود اقدام شد.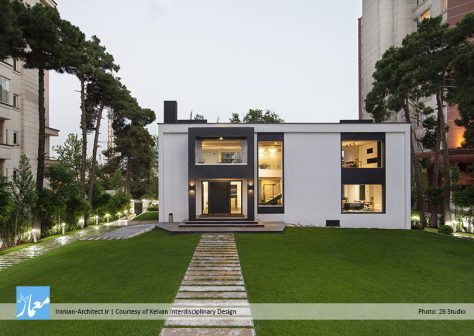 در راستای تغییر کاربری ساختمان موجود به یک فضای اداری برای دفتر مرکزی شرکتی با هفت نفر پرسنل، و تاکید کارفرما بر وسعت زیاد فضاهای مدیریتی، طبقه همکف به منشی‌گری و دفاتر خصوصی، و طبقه اول به فضای جلسات و مدیریت اختصاص پیدا کرده است.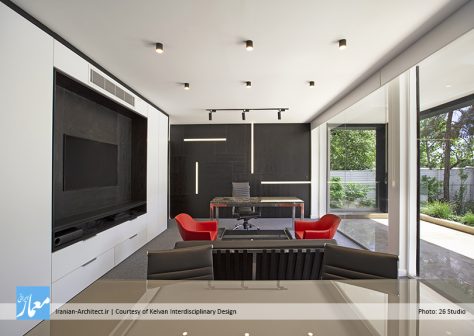 برای هماهنگی بیشتر با عملکرد اداری، از رنگ‌های خنثی و متریال‌های محدود در طرح نما و معماری داخلی استفاده شده است تا فرصت بیشتر برای دیده‌شدن رنگ‌های سبز سایت و محیط، و همچنین اشیاء و رنگ‌هایی که توسط کاربران به فضا اضافه می‌شوند، فراهم شود. مبلمان و اجزای تزئینی نیز توسط طراحان، و مختص این پروژه طراحی و ساخته شده است.
Fereshteh Office
Kelvan Interdisciplinary Design (Amir Yari, Sara Boroujerdi, Raham Ahmadian)

Location: Tehran, Iran
Date: 2019
Area: 1,000 sqm
Status: Completed
Client: Aris Company
Design Team: Maedeh Ashoori, Ghazaleh Hanaei, Mohammadreza Vaezi
Visualization: Setareh Mousavi, Mahsa Ardestanian
Construction: Omid Kardgar, Alireza Sepehri
Photo: 26 Studio
Freshteh office project is located in Elahieh district, on a 5000 square metres property. Given the long lifespan of the existing building, the client intended to demolish all the remaining structures, and build a new office; However, the designers consulted the client not to do so, and consequently, it was determined that regeneration is the best answer.
Considering the change in the use of building, in order to serve as an office headquarters, the new design was focused on two separate zones, in which the ground floor was dedicated to secretariat and private offices, and the first floor to the managerial and meeting area.
Trying to coordinate the architecture of the building with newly altered use (office), neutral and limited colour and material were selected in facades and interiors, to let the dominance of the landscape and greeneries prevail.