ویلای آشیان
دفتر معماری متن (سعیدمحسن یونسی)
موقعیت: گیلاوند، دماوند، تهران، ایران
تاریخ: ۱۴۰۲
مساحت: ۴۱۸ مترمربع
وضعیت: ساخته‌شده
کارفرما: محمد خوانساری
سازه: کوروس اطاعتی
تاسیسات مکانیکی: مهدی میرحبیبی
تاسیسات الکتریکی: سارا توکلی
اجرا: حمیدرضا میرفخرایی
عکس: حنا میرجانیان، مهدی خوانساری
ویلای آشیان در منطقه سرسبز جیلارد گیلاوند واقع شده، و از ابتدای کار، تاکید کارفرما و طراح بر حفظ اتمسفر باغ و درختان میوه آن بوده است. از این‌رو، ساختمان در تنها محل خالی از درخت باغ قرار گرفته است و برای ساخت آن فقط سه اصله درخت جابه‌جا شده‌اند.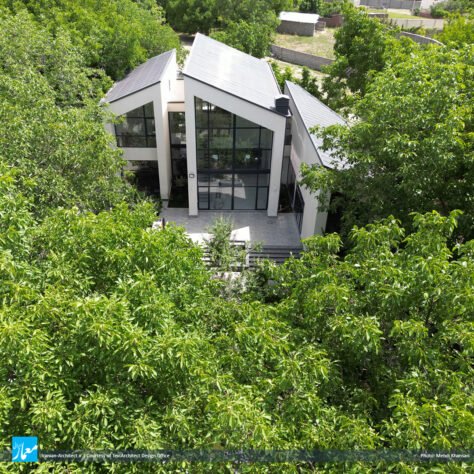 دست‌یابی به فضاهای مورد نیاز اعضای خانواده (شامل پدر و مادر، و پسر و دخترشان و همسران و فرزندان‌ آن‌ها) در محدوده ساخت، منجر به شکل‌گیری توده‌ای شد که برای به درون‌ آوردن باغ، به سه بخش مجزا تقسیم شده است. در نتیجه، باغ بین دو شکاف ساختمان نفوذ کرده و در فضاهای داخلی ویلا احساس درهم‌تنیدگی با محیط سبز باغ محسوس است.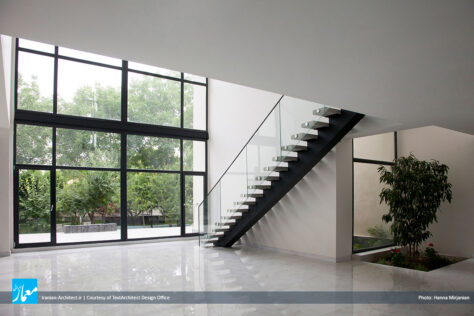 ارتفاع بلند ووید سالن در بخش میانی ویلا، دید بی‌انتها به باغ و آسمان را فراهم و احساس لاغری سالن را تعدیل می‌کند. همچنین استفاده از سطوح وسیع شفاف در ضلع‌های شمالی و جنوبی ویلا ارتباط بصری با باغ و استفاده از نور طبیعی را به حداکثر ممکن رسانده است.
در ویلای آشیان حریم فضاهای شب و روز، و فضاهای تفریح حفظ شده، و بر این اساس، بخش شرقی ویلا به اتاق‌های خواب، بخش میانی به آشپزخانه و سالن، و بخش غربی به استخر و سالن بازی اختصاص یافته است.
Ashian Villa
TextArchitect Design Office (Saeed Mohsen Younesi)
Location: Gilavand, Damavand, Tehran, Iran
Date: 2023
Area: 418 sqm
Status: Completed
Client: Mohammad Khansari
Structure: Kouros Etaati
Mechanical Engineering: Mehdi Mirhabibi
Electrical Engineering: Sara Tavakkoli
Construction: Hamidreza Mirfakhraei
Photo: Hanna Mirjanian, Mehdi Khansari
Ashian villa is located in a green area, and since the beginning of the work, the client and designer have emphasized on preserving the trees and the atmosphere of the fruit garden. The building is located in the only place that is empty of garden trees, and only three trees have been successfully moved.
Achieving the spaces required by the family (including father and mother, son and his wife and child, and daughter and her husband and child) within the construction area, led to a mass that is divided into three separate parts to bring the garden inside. As a result, the garden penetrates between the two gaps of the building, and in the inner spaces of the building, the feeling of interweaving with the green environment is noticeable.
The high height of the living room in the middle part of villa provides an endless view of the garden and the sky, and moderates the feeling of thinness of the space. The wide transparent surfaces on the north and south sides have maximized the visual connection with the garden environment, and the use of natural light.
The privacy of day and night spaces, and recreation spaces has been preserved, and accordingly, the eastern part of the villa is dedicated to the bedrooms, the middle part to the kitchen and living room, and the western part to the swimming pool and the game hall.