ویلا [در]میان
استودیو صاحب (امیررضا صاحب)
راه‌یافته به مرحله نیمه‌نهایی پنجمین دوره جایزه شایستگی معمار ایرانی (۱۴۰۱)
موقعیت: مشا، دماوند، ایران
تاریخ: ۱۳۹۶
مساحت: ۴۲۰ مترمربع
وضعیت: ساخته‌شده
کارفرما: علی صحت
معمار همکار: مریم شاکر
عکس: علی دقیق
سایت پروژه در دامنه زیبای دره‌ مشا واقع شده است. مهم‌ترین مسئله برای ما پس از بازدید از سایت، عدم ایجاد مانعی جدید در بستر، و تلاش برای حفظ حداکثری امتداد دید و حرکت بستر طبیعی زمین بود. ایده اصلی در راستای پاسخ به این مسئله، شکافتن توده پروژه از نقطه تلاقی آن با زمین بود که حاصل آن، ایجاد دو باکس خالص و فضای خالی میان آن دو بود.
فضای خالی میانی ویلا به عنوان مهم‌ترین فضای پروژه، بدون داشتن عملکردی متعارف، تنها منتقل‌کننده حسِ بودن و حضور در میان آرامش دره است و نیز امکان دید به دره را از میان بنا (امتداد دید از بیرون به درون و درون به بیرون) فراهم می‌کند. بنابر‌این کلیه فضاهای عمکردی پروژه در داخل دو باکس خالص و سفید ایجادشده جای گرفته‌اند. همچنین این دو باکس برای ایجاد بیشترین گشودگی ممکن در قسمت میانی، با توجه به شرایط محدوده قابل ساخت در سایت، به موازات خطوط کناری سایت استقرار یافته‌اند و دو پل بلند در فضای خالی میانی، آنها را به هم مرتبط می‌کنند.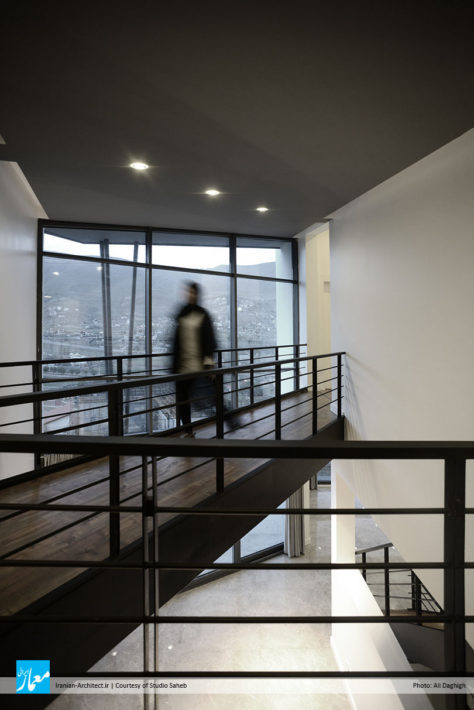 ویلا [در]میان، درست جایی میان پل بلند معلق در فضای خالی میانی، با دید کامل به سمت شمال و جنوب، بیشترین حسِ بودن و حضور در میان دره را برای مخاطب به همراه دارد.
[In]Between Villa
Studio Saheb (Amir Reza Saheb)
Semi-Finalist of Iranian Architect Merit Award 2022
Location: Mosha, Damavand, Iran
Date: 2018
Area: 420 sqm
Status: Completed
Client: Ali Sehat
Associate Architect: Maryam Shaker
Photo: Ali Daghigh
The site is located in the beautiful Mosha valley. After visiting the site, the first impression was how to build a villa without blocking the consistency of view and ground? Having this idea in mind, the design started with splitting the mass at exact meeting point of mass and ground, to provide extension of view through the villa. The result of this splitting is two separated pure boxes and an empty space in the middle of villa.
The [in]between empty space doesn't have any specific functional program, but as the most important part of villa, acts as a transmitter of valley's calmness and let the user feel and experience of being in the middle of valley. All functional programs accommodate in boxes. The boxes rotated and aligned with the site boundary, to create maximum openness in the middle space, and then two bridges connect them.
The Villa has made its best exactly somewhere in the middle of the long bridge suspended in the [in]between space, where one can have both south and north view of valley at the same time, and the user can feel calmness of this beautiful valley.