خانه الحاقی
فربد یمنی، آرمان مشهدی، نغمه کثیری
راه‌یافته به مرحله نیمه‌نهایی پنجمین دوره جایزه شایستگی معمار ایرانی (۱۴۰۱)
موقعیت: روستای خال‌خیل، ساری، ایران
تاریخ: ۱۳۹۸
مساحت: ۲۰۰ مترمربع
وضعیت: ساخته‌شده
کارفرما: فریبا نوشفر
سازه: مهدی براری
تاسیسات مکانیکی: امیر یمنی
تاسیسات الکتریکی: ساسان نوشفر
اجرا: آرش یمنی، شاهین شیخان
عکس: سیاوش دستگردی، فربد یمنی
خانه الحاقی در کیلومتر ۲۵ جاده ساری‌ـ‌کیاسر، در بالای روستایی به نام خال‌خیل، در باغی در دل جنگل واقع شده است. مالک قبلی زمین باغ‌دار و حشم‌دار بوده، و ساختمان موجود در سایت که بر روی ستون‌هایی از جنس قوطی ۹×۹، و با پی‌های منفرد بنا شده بود، به عنوان محل نگهداری احشام استفاده می‌شده است. مالک جدید پس از خرید زمین، بنای موجود را به خانه‌ای برای اقامت موقت تغییر داده بود، اما با توجه به سازه ضعیف و نا‌مقاوم اولیه، استفاده از آن چندان ادامه پیدا نکرده بود.
طراحی و بازسازی این خانه با توجه به الزام اداره کل منابع طبیعی برای عدم اضافه‌کردن به سازه و زیربنای موجود در سایت، و همچنین درخواست و نیاز کارفرما برای افزایش مساحت قابل سکونت، با سوالات زیادی برای ما همراه بود. اولین و جدی‌ترین سوال برای ما این بود که چگونه می‌توان با توجه به قوانین و مقررات، در عین پاسخ به نیاز کارفرما برای افزایش فضای قابل سکونت، مسئله سازه را نیز بدون تخریب، و با روشی معمارانه، حل و بازتعریف کرد؟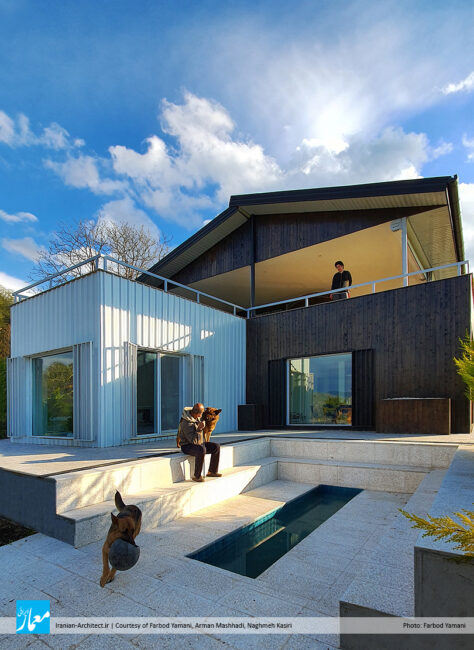 ما به دنبال ساده‌ترین ایده برای حل مسائل مذکور بودیم، و تضاد بین نیاز کارفرما و قوانین و مقررات، چالشی جدی برای ما به حساب می‌آمد. هرچند اداره کل منابع طبیعی امکان اضافه‌کردن سازه دائم به سایت را از ما گرفته بود، اما امکان اضافه‌کردن سازه‌های موقت، از قبیل کانتینر که از تحمل بار بسیار بالایی برخوردار است، همچنان وجود داشت. در نتیجه، ما با شکافتن جداره‌های خانه و واردکردن کانتینر به درون آن، به شکلی که سازه‌ کانتینرها زیر تیر‌ها و کنار ستون‌های موجود قرار گیرد و با آنها اتصال پیدا کند، ساختمان را از نظر سازه‌ای تقویت، و بار ساختمان را بر روی کانتینر‌ها پخش کردیم. در عین‌حال، جای‌گذاری این کانتینر‌ها به نوعی بود که با بیرون‌زدن از خانه، باعث افزایش متراژ فضای داخلی در طبقه همکف، و افزایش متراژ فضای باز در طبقه اول (روی سقف سازه‌های موقت) می‌شد.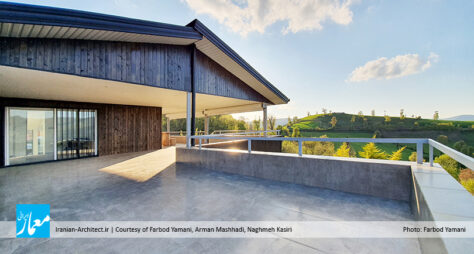 پس از اضافه‌شدن کانتینرها، و در نتیجه، احیای سازه و افزایش فضای قابل سکونت در هر دو طبقه، از دیاگرام فضایی خانه‌های سنتی شمال (تلار) برای سازمان‌دهی فضایی ساختمان الهام گرفتیم. بر این اساس، سازمان‌دهی خانه در دو طبقه تعریف می‌شود: طبقه همکف که فضاهای بسته و اولیه زندگی در آن جای‌گذاری می‌شود، و طبقه اول که شامل یک اتاق کوچک در یک ضلع، و نیز سه ضلع باز است که به عنوان تراسی بزرگ استفاده می‌شود.
با توجه به موقعیت ویژه سایت، ساخت‌وساز در آن پیچیدگی‌های خاص خود را داشت؛ از جمله، جاده‌ خاکی و دوربودن از شهر، ما را به این تصمیم واداشت که از مصالح به‌کاررفته در ساختمان قبلی، و حتی از نخاله‌های آن بیشترین استفاده را بکنیم، و نیز تا حدی که به پروژه آسیب نرسد، به کارگران محلی روستا آموزش دهیم و از آنها استفاده کنیم. همچنین نبود سیستم برق، آب و گاز در سایت، استفاده دائم از خانه را با سختی‌هایی همراه می‌کرد. از این‌رو، ما سعی بر آن داشتیم که تا حد امکان، از منابع طبیعی (تابش خورشید و بارش باران) بهره‌برداری کنیم. استفاده از پنل‌های خورشیدی موجود بر روی شیروانی و تخریب‌نکردن آن، و جمع‌آوری آب‌های سطحی (کف حیاط، روی شیروانی، بام کانتینرها و …) و هدایت آنها به یک منبع بزرگ آب برای استفاده از آب باران به نفع ایجاد کیفیت فضایی برای خانه (ایجاد حوضی کوچک) و آبیاری باغ، از جمله تصمیمات ما برای کمک به زندگی آسوده‌تر ساکنین خانه بود.
Plugin House
Farbod Yamani, Arman Mashhadi, Naghmeh Kasiri
Semi-Finalist of Iranian Architect Merit Award 2022
Location: Khal Kheyl Village, Sari, Iran
Date: 2019
Area: 200 sqm
Status: Completed
Client: Fariba Nooshfar
Structure Consultant: Mehdi Barari
Mechanical Consultant: Amir Yamani
Electrical Consultant: Sasan Nooshfar
Construction: Arash Yamani, Shahin Sheykhan
Photo: Siavash Dastgerdi, Farbod Yamani
This Villa is located on Sari-Kiasar road, on the top of a village called Khal Kheyl, in a garden in the heart of jungle. Previous owner of the garden was a cattleman, and he used this building for keeping cattles, while the current owner changed this building to a place for temporary residence.
The client request for expansion of living area, weakness of the current structure (9*9 cans and single foundations), and the Natural Resources Organization policies for impossibility to create a new permanent structure, were main conflicting challenges that should be redefined by architectural methods, without the buildings destruction.
The chosen strategy was splitting the house's crust, and importing containers as temporary resistant structures, into them, resulting in buildings reinforcement, and expansion of the area in ground and the first floors. After adding the containers, and reinforcing the structure and increasing the area of both floors, we were inspired by spatial diagram of northern traditional houses (Telar) for spatial organization of the building. The organization of the house is defined in two floors: the ground floor that the basic living spaces are located in it, and the first floor that includes a small room in one side, with three open sides.
The distance of the site to the urban context, and lack of infrastructure for living, made us to make some decisions for solving these problems, such as:
– Recycling the used materials in the previous building, even its construction debris,
– Training the local workers,
– Using natural resources (such as sunlight and rain) as much as possible, for providing necessary infrastructures, and collecting the surface water (on the yard, gable roof, containers roof, etc.) and direct them to a water supply, for creating spatial quality for the house (building a small pool) and watering the garden.