آپارتمان خانوادگی اطلسی
دفتر طرح ساخت آوگون (سپیده مسعودی‌نژاد، بابک خباز، بابک قلی‌زاده)
راه‌یافته به مرحله نیمه‌نهایی نخستین دوره جایزه شایستگی معمار ایرانی (۱۳۹۷)
موقعیت: تهران، ایران
تاریخ: ۱۳۹۳
مساحت: ۱۵۶۷ مترمربع
وضعیت: ساخته‌شده
کارفرما: خانواده احمدیان
سازه: بنیامین محبی
تاسیسات: کامبیز تابعی
اجرا: دفتر طرح ساخت آوگون (بابک خباز، بابک قلی‌زاده)
عکس: علیرضا روح‌نواز
آپارتمان خانوادگی اطلسی در زمینی به مساحت ۴۹۵ مترمربع، در محله ظفر تهران بنا شده که شامل سه واحد مسکونی است: یک واحد مسطح (Flat) به مساحت ۲۵۴ مترمربع، در طبقه اول، یک واحد دوبلکس (Duplex) به مساحت ۲۳۳ مترمربع، در طبقات دوم و سوم شمالی، و یک واحد تریپلکس (Triplex) به مساحت ۲۹۰ مترمربع، در طبقات دوم، سوم و چهارم جنوبی. امکانات تفریحی و ورزشی جمعی، شامل استخر و سونا، سالن ورزشی و چایخانه، نیز در زیرزمین و پارکینگ‌ها در طبقه همکف واقع شده‌اند.
کارفرما قصد داشت تا خانه‌ای را که روزگاری اعضای کوچک خانواده در آن می‌زیستند، سقف بشکافد و برای خانواده‌ای که اکنون وسعت یافته و هر یک در طلب استقلال‌اند، طرحی نو دراندازد و به هر یک از اعضاء خانواده، خانه‌ای مستقل بدهد، اما در عین حال، پیوندهای خانوادگی را باز کند و همه را در خانه‌ای واحد گرد هم آورد، خانه‌ای شامل سه واحد مسکونی مستقل برای والدین و دو برادر. به این ترتیب، بهانه اصلی شکل‌گیری آپارتمان اطلسی، ایجاد خانه‌ای برای یک خانواده گسترده، در قالبی امروزی بود.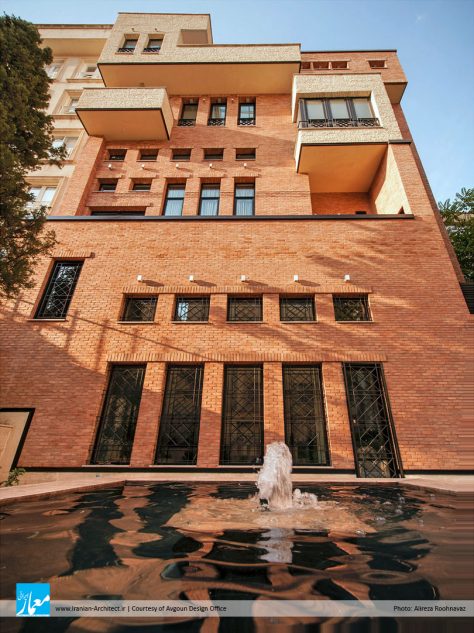 از این‌رو، چالش ویژه‌ای که تیم طراحی با آن مواجه شد، در کنار فاکتورهای معمول در طراحی (کیفیت‌های فضایی، اقلیم، ضوابط شهرداری و …)، معطوف بود به پارادوکس میان استقلال و وحدت واحدهای مسکونی خواسته‌شده؛ اینکه چگونه سه واحد مستقل از هم طراحی شود که هر یک حریمی مشخص و محترم دارند و در عین حال، در هم می‌تنند تا پاسخ‌گوی مناسبات خانوادگی باشند، سه واحد متفاوت، در تناسب با سن و روحیه هر یک از مالکین، اما هم‌زبان و در پیوند با هم؛ ایده‌ای که می‌خواستیم هم در حجم و فرم کلی بازتاب یابد و هم در ساماندهی فضاها و ارتباط میان ساکنین.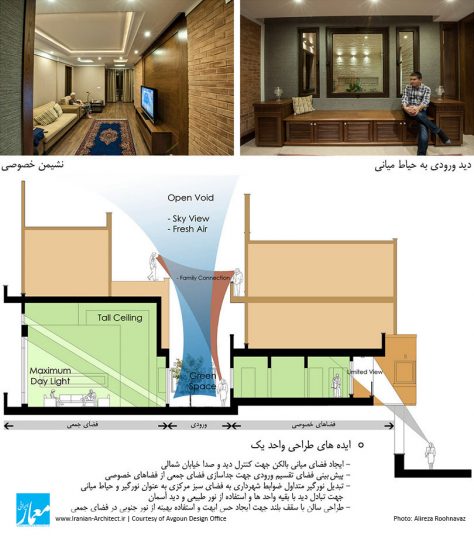 به این منظور، کل طبقه اول به خانه والدین اختصاص یافت و در طرحی مسطح (Flat) با فضاهای جمعی وسیع و مرتفع، با نیازهای سنی و روابط اجتماعی آنها سازگار شد، واحدی که از شمال تا جنوب گسترده شد. هر یک از دو واحد دیگر بر روی نیمی از واحد والدین قرار گرفت، یکی در بخش شمالی و دیگری در بخش جنوبی به صورت دوبلکس و تریپلکس سازماندهی شده که از نظر چیدمان فضایی و بازی‌های فرمی، بر روی واحد یک بازیگوشی می‌کنند. این نحوه انتظام واحدها اشاره‌ای استعاری دارد به نقش ساکنین؛ والدین که همچون ریشه‌اند و پسران که پای در ریشه دارند و سر به سوی زندگی خویش.
به علاوه، با شکاف عمودی سرتاسری در دل مجموعه، یک حیاط میانی ایجاد شد که از یک‌سو، با وسعتی مناسب، نور طبیعی را به عمق هر خانه می‌تاباند و گشایشی ایجاد می‌کند برای دیدهای فراخ به آسمان از دل خانه، و از سوی دیگر، قرارگیری فضاهای متنوع هر واحد حول این حیاط و در ارتفاعات متنوع، شناورشدن فضاهای باز و نیم‌باز، بالکن‌ها و حیاط‌های اختصاصی هر واحد بر روی هم و به سوی حیاط میانی، آن را فضایی پویا و سرزنده می‌سازد و بستری می‌سازد برای بازشدن پنجره‌ها به سوی هم، فرصتی می‌دهد برای زندگی در فضایی مشترک، برای پیوند میان اعضاء خانواده، و برای تأکید بر بودن در کنار یکدیگر، ضمن حفظ حریم خصوصی هر خانه.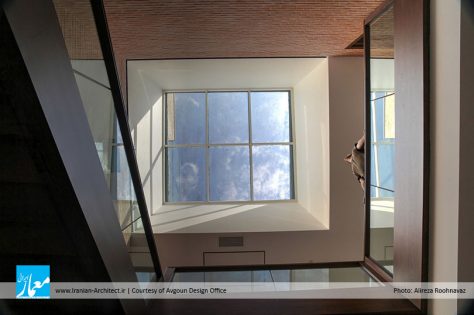 ایده محور عمودی و نورانی میانی (ووید مرکزی)، نه تنها در انتظام کل مجموعه، بلکه در ساماندهی فضایی واحدهای برادران نیز به کار آمده است، به این ترتیب که فضاهای جمعی خانه در سطوح مختلف و به گرد سالنی مرتفع که سقف آن به سوی آسمان گشوده است، نظم یافته‌اند. به این ترتیب، شفافیت و سیالیت فضاها، و سرریز شدن آسمان و حجم نور به داخل فضاهای جمعی، از کیفیات بارز در واحدهای مسکونی این مجموعه است.
همچنین، بنا به خواسته برادران احمدیان، پیچیدگی فضایی و تنوع کیفیت در گوشه‌گوشه خانه، چاشنی این واحدها شده است. از دیگر ویژگی‌های واحدها، باید به تفکیک عرصه‌های جمعی و خصوصی، بهره‌مندی تک‌تک فضاها از نور طبیعی و دید مطلوب، پیوند درون و بیرون، و تأمین بالکن و حیاط خصوصی برای هر واحد، و طراحی بام به عنوان بام سبز و فضای باز مشترک خانواده اشاره کرد.
Atlasi Family Apartment
Avgoun Design & Construction Office (Sepideh Masoudinejad, Babak Khabaz, Babak Gholizadeh)
Semi-Finalist of Iranian Architect Merit Award 2018
Location: Tehran, Iran
Date: 2014
Area: 1,567 sqm
Status: Completed
Client: Ahmadian Family
Structure: Benyamin Mohebi
Mechanical Consultant: Kambiz Tabei
Construction: Avgoun Design Office (Babak Khabaz, Babak Gholizadeh)
Photo: Alireza Roohnavaz
The building is designed for a family consists of a parent and two children, where the near future expansion of each child's family was a priority. The design goal was to house this extended family in contemporary format apartments where the main challenge was to solve the level of dependency between future residents. We wanted to reflect this level of dependency in volume, size, form and organization of spaces of the house.
To this end, the complex consists of three individual units; the entire first floor was given to the parents and is designed in a flat format with large and luxurious dining and living room aligned with their requirements of age and social status. For brothers, multilevel apartment were designed to reflect their playful and modern moods.
A vertical void between the mass of the building creates a central courtyard. This courtyard enables penetration of natural light deep into houses and provides sky view for the residents. On the other hand, placing of various spaces (open and semi-open spaces and private balconies) around the courtyard at various levels, demonstrate a dynamic and lively area where members of the family can enjoy their social life and keep neighbors interacted while each house's privacy is protected. Transparency and fluidity of spaces and overflow of sky and light into the units were achieved by adding semi-closed areas and skylights.
"Atlasi Family Apartment" is built on a 500 sqm plot, in Zafar district in northern Tehran. The parent's flat apartment is on the second floor (254 sqm). A duplex unit, with an area of 233 square meters on 3rd and 4th floors on northern side belongs to the smaller child and a triplex unit, with area of 290 sqm spreading on the southern side is for the older son. Each unit was carefully designed to meet the specific needs of its residents. Shared facilities include a pool, sauna, gym and a tea room located in the basement floor and parking for 6 cars on the ground floor and a roof garden.