نمایشگاه صنعتی ـ اداری آریو چوب
دفتر معماری دیگر (علیرضا تغابنی)
موقعیت: تهران، ایران (احمدآباد مستوفی)
تاریخ: ۱۳۹۴
مساحت: ۲۰۷۰ مترمربع
وضعیت: ساخته‌شده
کارفرما: شرکت آریو چوب
تیم طراحی: علیرضا تغابنی به همراه مجید جهانگیری، مریم گلبرگ، شهاب رمضانی
مشاور سازه: شرکت ایمن سازه فدک
اجرا: محسن شمشیری
اجرای سازه کابلی: شرکت دیبا
نظارت: ابراهیم روستایی
پرزانته: عسل کرمی، فاطمه طباطبائیان، مرضیه نوذری
ماکت: شیما محمدی
عکس: پرهام تقی‌اف
جوایز: رتبه اول گروه بازسازی جایزه معمار ۱۳۹۴
نمایشگاه صنعتی ـ اداری آریو چوب، نمایشگاهی برای دستگاه‌های چوب‌بری وارداتی است که در شهرک صنعتی بهسازی صنایع چوب ایران قرار دارد. این شهرک صنعتی که در نوع خود یگانه است، ساختمان‌هایی با بتن پیش‌ساخته دارد که هر بلوک ساختمانی به چهار قسمت، با ارتفاع ۱۲ متر تقسیم می‌شود. این شهرک که بیشتر فعالان صنعت چوب در آن کارخانه یا نمایشگاه دارند، بر خلاف روحیه صنعتی‌اش، به کوچه‌باغ‌ها می‌ماند و خیابان‌کشی‌اش با وسواس انجام شده است تا درخت‌ها آسیب نبینند.
این پروژه وقتی به ما ارجاع شد که در حین ساخت بود و کل آن به صورت تیپ و دو طبقه انجام گرفته بود و ما بر اساس گفتگو با کارفرما و فهم نیازهای پروژه، اقدام به تعویض این تیپولوژی کردیم که شامل تغییر طبقات و تغییر محل قرارگیری بخش اداری بود.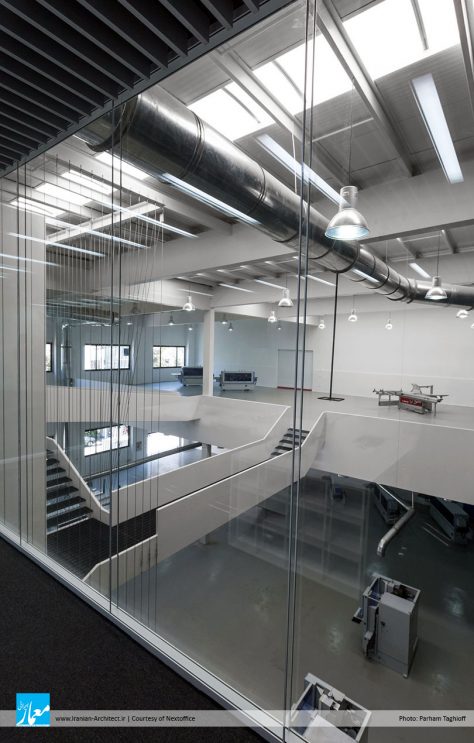 پروژه از دو قسمت اصلی تشکیل می‌شد و به دلیل اینکه دستگاه‌های چوب‌بری، هنگام خرید و بررسی می‌باید از ارتفاع بالاتری بررسی شوند، سناریوی حرکتی از فضای مدیرعامل در طبقه سوم اداری به سمت قسمت‌های مختلف، به وسیله پل‌هایی شکل گرفت که یک گردش کامل سه‌بعدی را در طبقات مختلف ایجاد می‌کند و در نهایت، به قسمت اتاق‌های فروش در طبقه همکف ختم می‌شود.
Ario Choob Industrial Office & Showroom
Nextoffice (Alireza Taghaboni)
Location: Tehran, Iran (Ahmadabad Mostofi)
Date: 2015
Area: 2070 sqm
Status: Completed
Client: Ario Choob Co.
Design Team: Alireza Taghaboni collaborated with Majid Jahangiri, Maryam Golbarg, Shahab Ramezani
Structural Design: Iman Saze Fadak Co.
Construction: Mohsen Shamshiri
Cable Structure Construction: Diba Co.
Supervision: Ebrahim Roostaei
Presentation: Asal Karami, Fatemeh Tabatabaeian, Marzieh Nozari
Model: Shima Mohammadi
Photo: Parham Taghioff
Awards: 1st Place of Memar Award 1394 in Renovation Category
Ario Choob industrial office & showroom which is a showroom for imported lumbering machines, is located in an industrial town. In this industrial town, constructions are built from prefabricated concrete panels and each block is divided into four parts, each with the height of 12 meters. Unlike its industrial function, this town looks like a garden and the street systems are constructed carefully, in order to save the trees from any damage.
The project was referred to us when it was under construction and the whole project had the same two-level type. As we spoke to the client, we detected the project's needs and we changed this typology, which resulted in changing the numbers and levels of the floors and the location of the office part.
The project consists of two main parts. When ordered, lumbering machines should be checked from higher levels, so the circulation scenario from manager's office on the office's 3rd floor to different parts, takes place through bridges which make a three-dimensional full flow to different floors, and finally reaches the sales rooms on the ground floor.